Poultney Family Album - Mexico December 2004

Strangely, despite a strong religious element still in Mexico, there was very little obvious celebration of Christmas at our resort.
We assumed that since the customers came from many nationalities and groups that the management had chosen to remain somewhat neutral
over the whole issue. Apart from a large artificial Christmas tree in the front grounds there we no other decorations to speak of.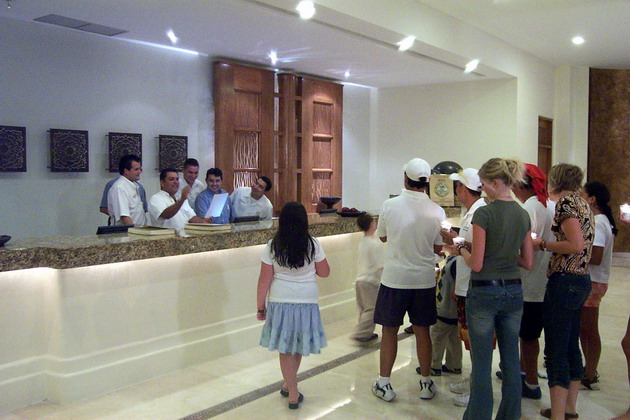 On Christmas Eve however some of the staff gathered and invited guests to join in a simplified version of Las Posadas,
a Mexican Christmas tradition (more details in my notes.) Basically a re-enactment of Mary and Joseph going from place to place asking
for somewhere to stay and being refused, until finally they were given a space in a stable. We were on of only two families to join them
as they walked from place to place in the hotel, singing the traditional songs, until finally being "allowed' room at the inn when we ended
at the restaurant. The blow-up Santa figure was the only other visible sign of Christmas and only up for 24 hours until Christmas night !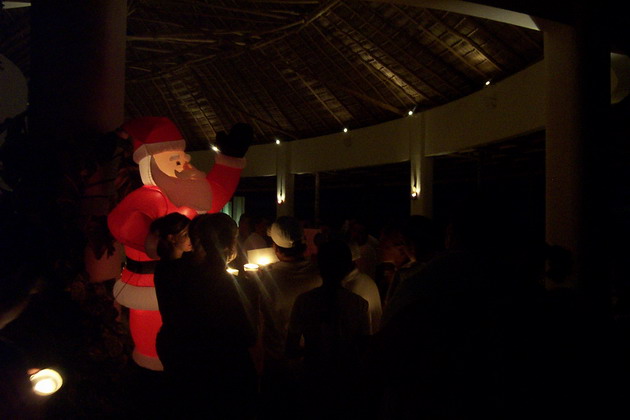 Previous Photo Back to Album Next Photo