Poultney Blog - July/August 2005
Click on the thumbnail pictures for larger format to load.

Return to Homepage Return to Blog Index
---
August 23 & 24 : Bronwen and Gordon took a couple of days off and drove up to Hinton where they stayed with friends. One day was spent just messing around Hinton - a long walk and bike ride on the trails around town and a beer and chat with another former African - Bill McDonald - who lives there. Bill runs a web site which sells all manner of Rhodesiana - Lekkerwear - and was kind enough to give Gordon a Rhodesian rugby jersey ! The next day B & G joined another family on a guided tour of Cadomin Cave; something G, had wanted to do for a long time and a thoroughly enjoyable experience. Getting to the cave requires about a one hour hike up a fairly steep trail. The cave is totally "undeveloped" so needs a lot of effort - and caution - to move through, using only personal headlamps. We did the basic tour lasting a couple of hours but there are different degrees of difficulty - tunnel crawling and rope work - which can make for longer forays.
---
August 6 & 7 : Gordon went to the annual Edmonton Folk Music Festival which he had not attended since 1999. As always it was a wonderful experience with the incredible setting in the Edmonton river valley and a huge variety of talented bands and musicians. Highlights of the event were the Johnny Clegg Band whose music we have been listening to for years but never seen live before and the Weakerthans; actually a favourite band of Bronwen's but since she couldn't go to the festival, Gordon went to see on her behalf !
---
July 26 : A very typical sign of summer in Alberta - fields of Canola in bloom.
---
July 20 : In late May our cat, Tibbs, gave birth to five kittens. Lots of fun to watch them grow up and we have been lucky to find homes for all of them.
---
July 12 : We said farewell to John and Kath returning to Australia via New Zealand and Jenny heading for Africa until late August.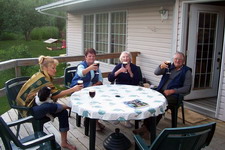 ---
July 10 : Friends - John and Kath - from Queensland, Australia came to stay for ten days en route home from Europe. We showed them the local tourist spots and then took them to the Rockies for a couple of days. Camped at Wapiti campground in Jasper National Park and enjoyed some of the many sights of the park - Mount Edith Cavell and the Angel Glacier, Athabasca Falls and Maligne Canyon. We also managed to see some of the wildlife of the area - elk, black bear and bighorn sheep.