Poultney Blog - March/April 2005
Click on the thumbnail pictures for larger format to load. There may be more than one photo on a page.

Return to Homepage Return to Blog Index
---
April 23 : Sadly, the last day of our trip and the holiday in Canada. We were up very early to hit the road and keep our schedule for the day. Another amazing day of the Trans-Canada highway winding its way up and down river valleys and mountain ranges with spectacular views of snow-capped peaks and glaciers. Had stops in Revelstoke and Rogers Pass and made it to Lake Louise for our picnic lunch out of the back of the van. Slightly ahead of time so managed a quick stop and walk around Banff before the final stretch into Calgary. Got Bron and jen to the Calgary airport right on time to check into their flight back to UK. A very sad farewell before Rita and Gordon took the very final drive back to home in Stony Plain.
The total journey was just over 3,000 km - amazing what a huge country Canada is, which got me to doing some research on the Internet to gather some interesting facts. The Province of Alberta is 661,000 sq km which is three times the size of U.K., just under twice the size of Zimbabwe, just a bit smaller than Zambia and half the size of South Africa. It has a population of 3.5 million people versus U.K. (60m), Zimbabwe (12m), Zambia (10m) and South Africa (45m). The province of British Columbia is 944,700 sq km which is the size of Germany and France combined; it has a population of 4.5 million versus a total of 145 million for the two European countries !! Vancouver island is 32,000 sq km and has a population of 750,000 - a bit larger than Belgium which has a population of 10 million, and just a bit smaller than Taiwan which has a population of 23 million ! For more interesting information about Canada visit the following web site : Canada at a Glance
---
April 22 : We left Abbotsford just after 8:00 am to start the journey back to Alberta. Near Chilliwack we stopped to look at a farm where they grow rows and rows of tulips. All the different colours were amazing - hard to believe that they have developed so many.

The next leg of the trip went smoothly on two amazing highways that cross huge mountain ranges. We arrived in Kelowna in time for a walk along the lake front before having lunch and then to one of Gordon's most favourite places to take photos - the mirrored (one-way) windows of the Earl's restaurant. Since the building is on a corner the windows give different angles and perspectives, depending on where you stand to look at the reflections in them. It is so much fun to stand there for a while and just see what happens as the world goes by !!
Afternoon tea was with Julia Schram and her mother, Rosalie Boast, who used to farm in the Concession area in Zimbabwe. A while since we had seen them so it was great to catch up with them. A lovely hot day so it was nice to be able to sit in the cool shade of their back deck. Finally on to Vernon for our pit stop (this trip was becoming something of an amazing race !) at the Sawatzky's ranch. It was so beautiful to sit out on the deck of the cottage having our drinks and snacks and watching the sunset glowing in the lake and hills around us.
---
April 21 : We didn't have to be up too early today so were able to have a leisurely morning and get packed up to head out on the road. We took a drive through White Rock and visited their sea-front which is just like an English seaside town - pier, promenade, shops and all. A quick stop at the Canada/US border to see the Peace Arch which marks the divide and so the Africans could at least say they got that close to the US but not actually across the line. Drove the back roads to Langley and then to Trinity Western University. Had lunch in the cafeteria after which we took a walk through the front grounds to see the flowers and Simon's memorial tree. Unfortunately we were too late for the flowers on the tree but it is looking very healthy with its new coat of spring leaves and tiny buds which will form the red berries in the fall.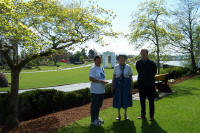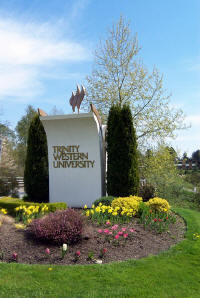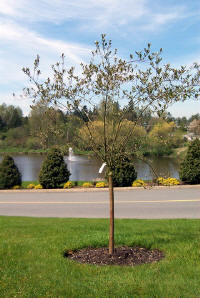 As we were walking around we bumped into a few of Simon's friends so it was nice to chat with them and hear how they were doing at school. Gordon had a couple of meetings with staff and faculty to discuss matters relating to the scholarship fund and the foundation (more details on related pages) while the ladies toured the campus some more and met up with some other friends of Simon. We had a quick stop in Fort Langley where we saw a crew setting up some of the old buildings for a movie shoot, then drove on to Abbotsford to spend the night with our friends, Bridget and Andrew Watson. (Andrew is the son of Robin Watson who had a ranch in the West Nicholson area). They had invited Rob and Gloria Drayton over for a pot luck supper. Rob and (sister) Bronwen had been at school together at Hillside Junior in Bulawayo in the 60's. It was a fun evening "speaking the same language" and reminiscing about the old days at "home".
---
April 20 : We were up at 4:30 a.m. in order to catch the 5:15 am ferry across to Vancouver Island. We had a busy day planned so needed all the time we could get. The ferry had very few people on board and the sun rise was gorgeous so it was a great start to the day. The two hour trip to Nanaimo went very smoothly and our first call was to the Charlebois family in Nanoose Bay for a quick coffee break. Phil was Simon's boss when he worked at Spruceland in the summer holidays over the years. Then on north to Deep Bay to our cousin, Reinette's house. It was good to see her again and after a look around her home and garden we went for a tour of the area - to Deep Bay itself - a very picturesque fishing and pleasure boat harbour - and then the beach near her house looking onto Hornby Island. There we saw an amazing sight of thousands of Surf Scoters - a type of duck - obviously taking break during their migration North. A real noisy bunch and seemed like they had found lots of food in that area. We then drove back to Nanaimo where Reinette treated us to a real old English-style pub lunch - ploughman's platters and fresh sandwiches washed down with beer or cider - at a pub called the Crows Gate. It really could have been anywhere in the English countryside and we heard lots of ex-pat accents amongst the busy crowd.
Back to the ferry terminal to catch the mid-afternoon ferry back to the mainland. A bit busier this time with a couple of full tourist coaches of Asian travellers on board. Again the sailing was smooth and the clear sunny day made for beautiful views of the ocean, islands and coastal mountains. As soon as we got back to the MacDowell's house off we went again - this time for a ride on their 45 ft cruiser. Went along one arm of the Fraser River delta to the old fishing and canning town of Steveston. There we docked and went for huge portions of fish and chips at Pajo's - a quaint eatery sitting on a platform floating in the harbour, surrounded by moored fishing boats. As if the day wasn't perfect enough we had the most gorgeous sunset to watch as we motored back to their moorings in Ladner. The photos say it all !! (The final one is of a Bald Eagle sitting on top of a bare tree - so much like a Fish Eagle at Kariba.)
---
April 19 : Today we drove into Vancouver and had a lovely drive around Stanley Park with several walks at different spots that we stopped along the way. The park, which is about 1,000 acres and was originally a Royal Navy base, is an oasis on the edge of the city with lovely views over the main harbour on one side and the open ocean on the other; beautiful flora and fauna; a world class aquarium; trails and pathways for all modes of exercise; and of course beaches. We stopped and drank our coffee on one of the beaches, looking out to the Georgia Strait which separates the mainland from Vancouver Island. We also had a walk through one of the large rhododendron gardens where we also saw lots of bird life and some cute raccoons.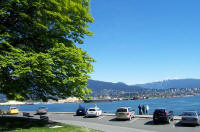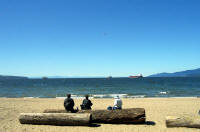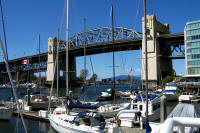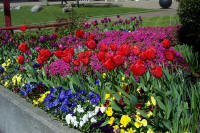 Next we took the aqua-bus (water taxi) across False Creek to Granville Island. This is an old industrial area which has been revitalized as a fashionable shopping and entertainment area. We had huge bowls of delicious home-style soup for lunch then wandered through the shops and markets, stopping to listen to buskers in the open pedestrian spaces. On our walk back to the van we were fascinated watching a guy rappelling (abseiling) down the side of a 25-30 story building to clean all the windows ! Also delighted by flower beds full of pansies and tulips. Back to Tswassen for another night which included a dinner of oysters and salmon for the Africans and sushi for the Canadians !
---

April 17 & 18 : Rita, Gordon, Bron and Jen headed out on a trip through the Rockies to British Columbia to see some of this huge and beautiful country. The skies were clear and sunny so the views of the mountains were spectacular. In Jasper National Park we visited Maligne Canyon and the ritzy Jasper Park Lodge - the Alberta equivalent of Troutbeck Inn - before spending the night in a lovely basement suite in a private home. There are lots of these home accommodation places in Jasper - not many are true B&Bs as they have a kitchenette and you do your own catering - and very cost effective.

We set off again quite early on Monday morning - not far from Jasper you cross into BC and a different time zone so gain an hour on the day. We were soon rewarded with the sighting of a big moose crossing the road. A little further on the view of Mount Robson, the highest peak in the Canadian Rockies at 3,954m (approx 13,000 ft), was spectacular.

During the next leg of the journey we were very lucky to have two separate sightings of bears - one a young grizzly and the other an adult black bear. Neither of them very close to the road but we were still able to stop and observe them for several minutes and get a close up look through binoculars. We stopped in Kamloops for lunch with Chris and Gine Rose. Chris grew up in Umtali and attended Plumtree in the 50's. They lived in Bulawayo for a few years after being married so they had lots of questions for Bron and Jen and made some "connections".

The rest of the trip down to the coast was uneventful and amazing to see everything so green and beautiful. As usual we got a very warm welcome from our good friends, the MacDowells, in Tswassen where we stayed for the next few nights.
---
April 16, 2005 : Tonight we had an open house party to celebrate the Africans being with us. Simon always wanted to have a party where a beer would be drunk out of every one of Gordon's collection of beer mugs/tankards which were mostly brought from Africa, but some were purchased during travels in other parts of the world. Not that every person at the party had to drink A beer out of every mug, just that every mug would have a beer drunk from it during the party ! So that was the objective for this party. As people came in the front door we told them the story and they had to go upstairs to the shelf and choose a mug. They had to ask one of the Poultney family the significance of the mug or the story behind it, and then during the evening ask other people about their mugs ! The other thing is that the mugs had not been cleaned for several years since they were on the shelf so people had to make sure they washed them out first !

It was a lot of fun and many people participated even though some only drank juice, coffee or water out of their tankard ! About 30 out of the 50 mugs were used. Below are photos of the beer mugs on the shelf before and after the party !


---
April 10, 2005 : Gordon's two sisters - Bronwen and Jenny, who still live in Bulawayo - arrived in Canada yesterday for a two week visit. Bron was here in the summer of 1999 for a visit but Jen has never been to Canada. In fact she and Gordon had not seen each other since Gordon left Zimbabwe in 1988 - so the reunion after 17 years was quite amazing.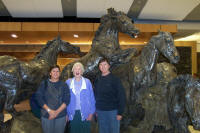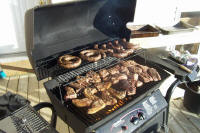 ---
March 2005 - we celebrated Gordon's birthday in style with a dinner party for a few good friends and the table laid with African decorations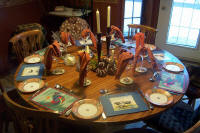 The friends had clubbed together and bought Gordon a fancy new pipe which he christened right away.
A few days later our good friend Ian was over and did his impression of Gandolph with the pipe !!