Click on the thumbnail pictures for larger format to load.

Return to Homepage Return to Blog Index
---
June 18 - Much amused by this very pertinent sign outside a local church in Spruce Grove !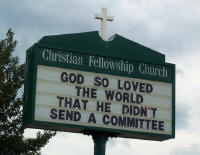 ---
June 12 - Jenny and Gordon went into Edmonton to do the 5 km sponsored walk to raise funds for ALS (scientific name for Lou Gerighs disease). The young father of a student in Jenny's grade one class is suffering with the (terminal) disease and their family was chosen to break the ribbon to start the walk and lead everyone off. The McNeil family had a tremendous turn out of family, friends and teachers and students from the school to walk and they, as a family, raised over $ 7,500.
---
June 2 - Signs that summer is here - the Lilac bushes are in full bloom and the humming birds - Ruby-Throated - are visiting the feeder. Amazing to think that those tiny little birds fly some 7,000 km (4,200 miles) to get here from their wintering grounds in South America. That includes a single flight across the Gulf of Mexico. Lots of very interesting information can be found at the web site www.hummingbirds.net
---
June 1 - In late May Arvid Loewen, ultra-marathon cyclist, set our from the Pacific Ocean at Whiterock, BC to cycle to the Atlantic Ocean at Halifax, NS - a distance of some 7,000 km (4,200 miles) - in under 30 days. That's a target average of 240km per day ! The purpose of the trip - called "Spoke 2005 - The Canadian Safari" - is to raise money for the Mulley Children's Orphanage in Kenya. So to add a degree of difficulty to the task he is using a special tandem bicycle and will alternate transporting one of three orphans who will sit in a custom design seat that won't require any pedaling !

Gordon went to Calgary to see Arvid as he cycled that section of the journey and to attend the regular evening presentation at a local church where Arvid and the three orphans presented their stories and testimonies of this amazing project. More information and photographs about the trip can be found at the Spoke 2005 web site Bringing Hope to Orphans in Kenya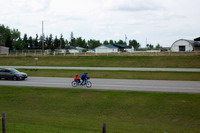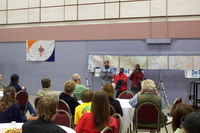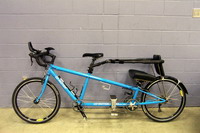 Note : The trip was completed in the planned time and Arvid survived !! A total of $ 100,000 was raised for MCF.