Poultney Family History

The following set of articles appeared in The Old Edwardian magazine in August, October and December 1989. Old Edwardians are the old boys of King Edward VII School in Johannesburg. William Henry Poultney was my great-grandfather and Gordon was my grandfather. Both my father – Harold – and my brother – David – attended KES.

Unfortunately there is no record of the name of the editor to acknowledge for this reproduction. Gordon Keith Poultney


WILLIAM HENRY POULTNEY - FIRST CHAIRMAN OF THE SCHOOL GOVERNING BODY 1907-1912

For as long as most Old Boys can remember two large portraits have hung in the School Hall. Originally they were at the back of the stage in the School Hall, but when the School received a large full-length picture of King Edward VII from the Pietermaritzburg Museum in 1978, the two portraits were moved to the back wall of the Hall above the gallery. The one portrait is of Harry Hofmeyr, first appointed to the Governing Body in 1907, becoming Chairman in 1912 and remaining Chairman for almost twenty-five years until his death. In his will Mr Hofmeyr left a Trust, the income on which was paid to his widow, and after her death the capital sum was paid over to the School and formed the basis of the Harry Hofmeyr Bursary Trust which to this day provides bursaries for matriculants to enable them to go to University. The other portrait is of W.H. Poultney, First Chairman of our Governing Body. We knew little about the Poultneys, however, until recently, apart from the fact that W.H. Poultney's three sons attended the School.

THE POULTNEY STORY

It took me a while longer to complete my research but that is now complete and in this and in succeeding issues the full story will be told of a truly remarkable family so closely associated with important events in the history of our country from the late 19th century until the period following the First World War.

This story is compiled from Thelma Gutsche's history of the Witwatersrand Agricultural Society "A Very Smart Medal" and Dora Ortlepp Poultney's autobiography "Dawn to Dusk" published in 1936. As mentioned in the first article permission has been obtained from the copyright holders to quote from these two works, and I am also indebted to Mrs Rosemary Dowdle (nee Poultney) for the two photographs which she made available to me – one of her grandfather in the last days of the Free State Republic, and the other of her grandmother and aunt when they were presented to King George V and Queen Mary at Buckingham Palace before the First World War.

HUMBLE BEGINNINGS

Dora begins her autobiography in the early 1850s with a story about her mother-in-law Elizabeth Sephton who was then 18 years of age. Elizabeth's father was a missionary and she grew up and had her early education at mission schools. She spoke several native languages fluently. That year she loaded up a wagon with trade goods (probably blankets and pots, although this is not mentioned) and went to trade with the "cannibals" who lived among the Basuto high in the Drakensberg - the Mountain of the Dragons. Her escort consisted only of two native drivers and her fifteen year old brother. "It was apparent that the natives she visited had never seen a white woman before. They swarm eagerly around their beautiful visitor, touching her clothes and shoes, showing their amazement by dancing around her in a circle and chanting. They thought she was a goddess from on high!" The trip was financially successful, but she was never allowed to go on another one.

She was not only talented, but a good handywoman and a keen gardener. Two days before he was killed in the Battle of Thaba Bosigo the great Boer leader Louw Wepener had breakfast with her and in the war Elizabeth nursed the wounded and the sick as she did for her family and neighbours in later years. Three or four years later Elizabeth used the money she had earned .to finish her schooling in Grahamstown, then stayed on for another two years as a teacher. During this time she had several proposals of marriage but she turned them down, and on her return home to New England in the North-Eastern Cape, she married Tom Poultney, the oldest son of James Poultney who had come out from Britain about the time of the 1820 settlers (whether he was one of the settlers or not is not mentioned).

At the time our story begins James Poultney was a farmer and although they had many horses, sheep and cattle, the family lived in a large cave on the farm Eagle's Crag. "On the bitterly cold winter nights when snow lay up to six feet deep in the drifts, the Poultney family's livestock shared the huge cave with them! Their simple food was cooked on open fires made of wood and cowdung, and the comforts and refinements of civilization they did not have at all. Most of their footwear was made of skins of animals, tanned In huge leather troughs, using the bark of certain wild bushes in the process. Soap was made of boiling sheep's fat with another variety of wild bush and jam of such things as wild berries and pumpkin. The wool shorn from their sheep was taken by oxwagon to Aliwal North - about one-hundred miles away. "Tom was unfortunately a rolling stone. He would work a farm for a few years and then sell up and move on. Each time they moved Elizabeth would repair the buildings and layout vegetable and flower gardens. Eight children were born of this marriage of whom Willie (the W.H. of our story) was the oldest. Up to age of thirteen Willie's education was partly at Aliwal North and partly at the mission school run by his missionary uncle, a Mr Giddy. He not only learned to read and write well, but also learned several native languages which he spoke as fluently as English.

In 1873 Tom and Elizabeth loaded up their worldly possessions in their great tented wagon and set off for the Transvaal with their children and their livestock. The six hundred miles journey took three months until they arrived in the Groot Marico district, but they only stayed there a short while and then moved across to Zeerust where they acquired a farm. Elizabeth put down her foot - she was not going to move again, and that farm is to this day still in the possession of the Poultney family.

The farm was very fertile and Tom and Willie laboured for fourteen hours a day to clear the land, plough and plant maize, much to the amusement of their Boer neighbours who only planted enough for their own needs. That summer was a good one and they reaped a good harvest. The only market place was Kimberley - two hundred miles away. The only trouble was that every farmer had a good crop and by the time they reached Kimberley there was a complete glut, so that in the end they had to sell their maize for a mere song and returned home poorer but wiser.

Most of the money they had brought with them from New England was now gone and they had a hard struggle rearing and selling cattle.

BACK TO TOP

WILLIE BECOMES A MAN

One night after spending a tiring day trying to get their wagon out of the mud, Tom and Willie lay down under the wagon after a frugal meal of dried meat and biscuits, when Tom turned to Willie and said: "Willie, you are fourteen years old today - you are now a man and must accept the responsibilities of manhood". This story is really the story of how well Willie did just that. When Willie was about eighteen he decided to trade with the many native villages in the area. He loaded the wagon with blankets, pots, beads and other "kaffir truck" and trekked for weeks from village to village bartering these goods for livestock. Since he could speak English and Dutch as well as several native languages he got on well and prospered, using his profits to help his parents bring up their young family. It was a lonely existence but Willie spent his spare time reading the Bible and Shakespeare as well as any other good books he could obtain.

Then came the first Anglo-Boer War of 1880/81. Although there was no fighting in the Western Transvaal, Tom Poultney was so disgusted at the attitude of the British that in the years after the war he became a loyal subject of the Transvaal Republic and became an intimate friend of President Paul Kruger. He served with the Boer forces in the Second Boer War (1899/1901), was seriously injured when thrown from his horse while on commando, then went to nurse the sick in a malaria stricken region and in the end succumbed to this dread disease.

Willie's trading came to an end with the outbreak of the war but he nearly lost his life on two occasions. On the first occasion he and his father received news that the Boers were going to round up all the arms owned by the "English" settlers. Since every farmer had to keep arms, Tom and Willie rode to their various friends' and neigbours' farms, told them to hide their arms, so that when the Boers arrived on Christmas morning they found no arms anywhere. They were infuriated, rounded up the English settlers and took them to the Court House in Zeerust where they threatened to shoot them if they did not disclose where they had hidden their weapons. Among those rounded up was a Mr Moffat, a Native Commissioner, who was a brother-in-law of David Livingstone. He was ordered to hand over his funds, but he refused, saying that only the Queen of England could give him instructions. One fiery young Boer raised his rifle and said: "Dan sal ek jou skiet". Willie Poultney knocked up the rifle which discharged harmlessly. Eventually, realising that they could get nothing from their "prisoners", the Boers let them go and they went home to a very belated Christmas dinner!

Shortly after that Willie decided to distribute the English newspapers which were smuggled into the Transvaal. It is not clear whether the papers were "The Friend" from Bloemfontein or "The Diamond Fields Advertiser" from Kimberley, but Willie wrapped the papers around his body and rode from farm to farm distributing them. One day a local Commandant told Willie that orders had been received to shoot any English who were found distributing these papers and added "Willie you might just bear this in mind." The Boers were convinced that Willie was the culprit and they were still incensed at the events of the previous Christmas. His mother got word that a party of Boers was on its way to "get" Willie and she begged him to flee. Mounting his horse he went by a round-about way to Zeerust where he was given shelter and remained in hiding until peace was declared a few weeks later and he could return home. Most of Tom's horses and quite a few cattle had been commandeered during the war, but he received no compensation and after peace was restored there was no money for Willie to resume his trading. They were times of great depression and the family was almost penniless.

CIRCUIT COURT INTERPRETER

Then Willie's mother saw an advertisement in the Bloemfontein "Friend" saying that the High Court of the Free State was looking for an interpreter and she begged Willie to apply. He rode to Bloemfontein where he knew nobody but he was interviewed by Judge Reitz, the Chief Judge who was apparently greatly impressed with this young man who spoke both English and Dutch fluently in addition to four native languages. He gave him the position, his pay being £800 a year including travelling expenses. Willie was then about 24, tall (6'0'), good looking, carried himself well, was a good dancer and became a good cricketer and tennis player and was also one of the fastest runners in the Free State. He also had a good voice and sang both solos and in choirs. Throughout his life he never smoked, drank nor gambled and became very popular with all he met. In the course of time he became the Honorary Secretary of the Bloemfontein Agricultural Society and among his friends he counted as his best friend President Steyn and also General Hertzog and other leading figures of the day.

He travelled around the country with the Circuit Court, the entourage consisting of two advocates in addition to the Judge and the interpreter. From the outset Advocate Marthinus Theunis Steyn was one of the advocates and some years later Advocate Hertzog was also one of them. It was Theunis Steyn who became his best friend. Dora then tells an amusing story of what happened when the court was hearing cases in a small town where - in Willie Poultney's opinion - the place needed "wakening up". That night Willie and Theunis sneaked out of their hotel, went to the local gaol where they rang the bell which was only rung when a prisoner had escaped. They scampered off with Willie shouting to his friend "Run, Theunis, the police are after us". In actual fact there was only one policeman who lived some distance away and did not even wake up when the bell tolled. The policeman did not wake up, but the magistrate did for he lived next door to the gaol, and he was not amused. In accordance with custom on the last night that the court sat, the local magistrate would lay on a party for the judge and his party. When Willie arrived the magistrate who suspected him as the perpetrator of the outrage, said in solemn tones "The bell shall not ring this night". To be quite sure that nothing happened, the magistrate had put his gardener on duty. near the bell. Suddenly the bell tolled and the magistrate rushed outside to find a terrified gardener who swore that nobody had been near and that ghosts were responsible. The magistrate told him to fetch the policeman and told them both to remain awake. An hour later the bell tolled again and this time the magistrate found the policeman and the gardener huddled together swearing that nobody had been near the bell. The mystery was solved the next day - after the Circuit Court personnel had departed. Willie had tied a cord to the bell and led the cord over the branch of a tree and into the window at the side of the magistrate's house from where he had rung the bell!

BACK TO TOP

DORA ORTLEPP

Dora then tells the story of her early life. She was born in Colesberg in the Cape Province. Her paternal grandfather had been a German missionary and her mother had been a Miss Roos. As a child she had been sent to stay with Grandfather Roos who owned a store on the banks of the Orange River and he also ran the ferry over the river since there were no bridges at that time. He had a lucrative business, and Dora relates how, when she was a child and the Orange River was in flood scores of wagons and carts with vast numbers of livestock of every kind would be encamped on both sides of the river waiting to cross. There was considerable excitement when Sir John Brand, President of the Free State arrived and had to stay for a few days as the river was in flood.

Then the Government built a bridge across the river some distance away - the ferry was no longer needed and the people no longer came to the store which was closed down. Dora's father tried to make money from the Colesberg Kopies Claims at the time when diamonds had been discovered around Kimberley but the venture failed and the family moved to the small town of Philippolis. With a family of nine children, times were very hard and Mrs Ortlepp had a struggle to make ends meet, taking in boarders, and selling flowers, fruit and vegetables from the garden.

Primary education was cheap and after Dora had finished there she won a bursary which enabled her to go to Eunice High School in Bloemfontein for a few years, passing her lower education certificate - equivalent to the present day Form III. Then she returned home and taught in Philippolis for the next three years helping her mother financially as far as possible. Although she only taught the lower classes she had pupils whose ages ranged from 6 to 17 ! The area was fairly prosperous and when the Circuit Court arrived twice a year to hear cases, the town was "en fete" until they left.

Dora writes in her book: "The leading citizens often rode out some distance along the road to meet and escort the Judge and his retinue into the town and never shall I forget a certain June morning when Tibbie Fraser (my best friend) and I stood and watched the gay procession of Cape Carts drawn by beautiful horses trotting briskly down the main street towards the Court House. Little did we dream that within a short while I should be married to the handsome new interpreter and she to his friend sitting beside him, Advocate Marthinus Theunis Steyn, the future President of the Orange Free State who was destined to sacrifice his life for his people and to become one of the most revered and beloved of South Africa's national heroes."

MARRIED LIFE BEFORE SECOND BOER WAR

Dora and Willie were married on his 26th birthday on June 28, 1886, and started north in his shining Cape Cart drawn by four fine horses. They intended visiting among other places the Witwatersrand gold fields, not yet proclaimed, but as it was merely a rough and ready mining camp with no hotels, they went instead to see the diamond mines in Kimberley, then on to Mafeking and so to the family farm for the rest of their honeymoon.

Initially they travelled together with the Circuit Court but then they settled down in Bloemfontein where they lived for the next thirteen years. Their six children were all born there, but in spite of their growing family they had an active social life and Dora says she shared in Willie's reflected glory for he was one of the most popular men in Bloemfontein. The future President of the Free State and his wife lived near them and they were constantly together. Next door to their house lived the Hertzog family when he was Justice Hertzog and the friendship between the two families lasted the rest of their lives.

Among their other close friends were Sir John Brand who was President of the Free State for 25 years, President Reitz who succeeded him and who as Judge Reitz had given Willie the job as interpreter and who many years later became first President of the Senate of the Union of South Africa in 1910. He was the father of Colonel Deneys Reitz, politician and author.

Yet another good friend was Chief Justice Melius de Villiers who was said to have been a greater expert on Roman-Dutch law than his more famous brother, the first Lord de Villiers. When Willie and Dora's oldest son was five he was taken by his father on circuit - they were travelling with Justice de Villiers. As they sat at the camp fire that night the famous judge turned to young Harold and said: "What are you going to do when you grow up?" Without hesitation the small boy replied: "Chief, when I grow up I'm going to be Chief Justice, so I wonder what you'll do then?" "Oh, perhaps you'll let me be our chief clerk, Hallie" replied the Judge laughingly. It was Willie's greatest hope that his son would eventually become Chief Justice of South Africa, but as the story later relates Harold who had had a brilliant scholastic career and who had been called to the Bar before the outbreak of the First World War, died tragically in 1915.

Among the people they met were President Kruger whom they liked and Cecil Rhodes whom they did not like. Another was a distant relative Mr Poultney Bieglow, a well known American author and historian whose father had been American ambassador to Berlin, and who himself had been a playmate of the last German Kaiser when they were boys - a friendship that lasted until long after the Kaiser's exile after the First World War. They met Mark Twain the American author who tried to recoup his financial losses by going on lecture tours, and also the founder of the Salvation Army, General Booth. To show the intense loyalty of the Free Staters to their Republic Dora tells the story of how, when the announcement was made that the Public Debt was £200 000, they reduced the salaries of civil servants and increased taxation until the debt was wiped out! There was not a murmur of protest. How times have changed !!

BACK TO TOP

FIRST OVERSEAS TRIP

In 1893 Willie and Dora went on their first trip overseas. Dora says she does not know how they scraped together the money but they did - they had three children at the time and these were left with Willie's parents. Willie was at that time Grand Master of the Free State Good Templars and a congress was being held in America that year. They sailed from Liverpool in the Majestic, the largest and most luxurious liner in the world at that time. The First Chicago Exhibition was opened in June 1893-the first World Fair. The tiny Free State Republic had a stand at the Exhibition and Willie and Dora were very proud that their country was represented. Dora writes that they marvelled at the buildings in New York - the tallest at the time was 22 storeys! Of all the places they visited Washington impressed them most. The highlight of the visit there was their visit to the White House where they met President and Mrs Cleveland - she was a very beautiful woman while he was a strict Prohibitionist and consequently very interested in learning about the Temperance Conference they had attended. Dora says that when they visited the Smithsonian Institute they were taken to a room where Wilbur and Orville Wright were normally working - they were trying to invent a machine heavier than air and which could fly. Their guide was very amused at this stupid idea! Dora relates how in about 1909 she met the Wright brothers in Rome and later saw the plane in which Bleriot made the first flight across the English Channel. In Des Moines in Iowa they met James Corbett the world heavyweight boxing champion, while in Chicago they also met Advocate Jaap de Villiers who ultimately became Chief Justice of the Union and one of their best friends.

They returned to London just in time to see all the festivities associated with the wedding of Prince George, son of Prince Edward, Prince of Wales, and grandson of Queen Victoria to Princess Mary of Teck. Little did Dora realize then that twenty years later she and her one daughter would be presented to King George V and Queen Mary at Buckingham Palace. There was a night of gala festivities and they saw the great soprano Albani in "Les Huguenots" at Convent Garden. Then Willie became ill and only the brilliant work of Sir Michael Banks, the leading surgeon, saved his life.

On the way home on the Dunnottar Castle the eighty year old Duchess of Cleveland sent for them and remarked that her family name was Poultney and she wondered whether they were related. It turned out that they were, for Willie's grandfather was one of two brothers who had had a row with their family - one had been traced to America but James had disappeared - he was Willie's grandfather. It appeared from subsequent investigations that the original Poultney had been "de Poultney" who had come over to England with William the Conqueror. Another passenger on the ship was Olive Schreiner whose book "Story of an African Farm" won world acclaim.

After the excitement of the trip they settled down again in Bloemfontein enjoying the pleasant life there. The next exciting event was the election of their great friend Marthinus Theunis Steyn as President of the Free State in 1896. Dora mentions an amusing event which occurred on the day of the inauguration. She and Mrs Steyn (her friend Tibbie Fraser) were lookalikes. Tibbie asked her if she would leave the ceremony early and go to the Residency to see that everything was in order as all the burghers and been invited to a garden party and a huge crowd was expected. Dora agreed and in due course was driven to the Residency in her carriage. When she got there the guard would not let her in, but an officer said to him "Open up, can you not see that this is the President's wife". How he imagined that the President's wife would return on her own has never been explained but Dora said that when the gates were opened she smiled and waved to the guests who were lining the driveway, laughing all the time to herself. In the excitement of the day she completely forgot to ask Tibbie whether there had been any reaction when the President and the real Mrs Steyn arrived.

THE ANGLO-BOER WAR (1899-1902)

Then came the tragedy of the Second Boer War. When war broke out between Britain and the Transvaal Republic, the Free State Volksraad had a long debate on what they should do. There were no political parties in the Free State and each elected member could vote according to the dictates of his conscience on any issue being debated. Opinions varied but in the end they decided that they had to support their good neighbours and so the Free State declared war on Britain - a tiny Republic against the mightiest nation on earth. In spite of their English background, the Poultneys had long been burghers of the Free State Republic, and like their fellow English speaking burghers they joined the Boer forces.

President Steyn appointed Willie as Joint Chief of the Free State Commissariat with Mr (later Senator) John Brebner. On the day before Lord Roberts entered Bloemfontein from the South, the President went North with his staff and a commando. They suffered a great deal and were chased from pillar to post by the British troops who greatly outnumbered them. These hard times broke the President's health but he not only survived the war but made a great contribution to uniting the four provinces into the Union of South Africa.

On commando Willie often shared a tent with General Hertzog who was one of the kindest hearted men he had ever known. Willie was put in charge of British prisoners of war, and when food and supplies ran short Willie would send native carriers to go and get supplies from shops in Basutoland. Since they were so short themselves, they eventually took away their arms and ammunition and sent them back to their regiments.

It was while they were resting near Fauresmith after being on the run for weeks that a scout rode into town and told the President that several thousand troops were busy surrounding the area. The President gathered all the fit men and managed to escape through a mountain pass which was not yet sealed off. Willie was unfortunately confined to bed and could not ride, so that he was captured. Later a Colonel Brookfield was put in charge of the escort which was going to take the prisoners and the President's wife who had been with her husband throughout, to Bloemfontein. It must be remembered that this was the last of the "Gentlemen's Wars", and during the journey Willie and the Colonel became good friends. The Colonel asked Willie to look him up if ever he came to England after the war. Many of the Boer prisoners were shipped to Ceylon, but Willie was sent to Durban. A week after he was sent away Dora received a notification to the effect that the house was being commandeered. She packed her belongings and went with her children, some of whom were still recovering from typhoid fever, by train to Cape Town where the baby died, and thence by troopship to Durban where the family was reunited.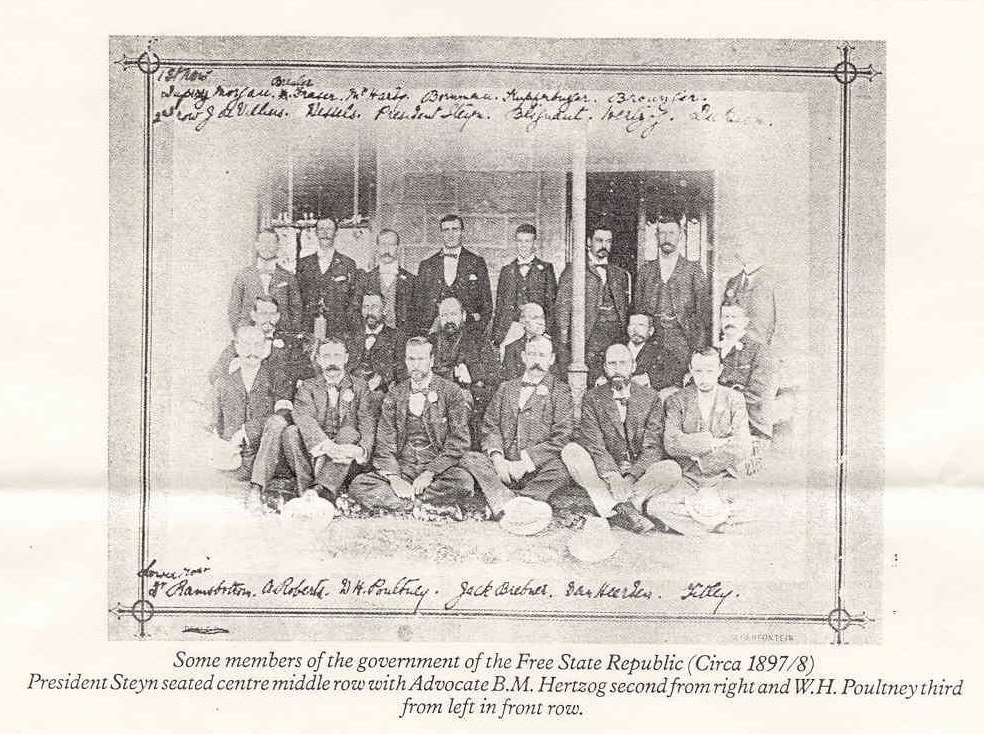 BACK TO TOP

TWO YEARS IN EXILE

Then Willie's health deteriorated and it was recommended that he should get away from Durban's heat and humidity. The opportunity came when a prosperous Free Stater, MrGregor, who was in bad health had to go to Britain and required someone to accompany him. Willie was paroled for six months and accompanied him, enabling him to receive expert medical treatment in England. When he had recovered he asked to be sent back to South Africa, but the British Government had ruled that any Boer who voluntarily came to Britain could not be sent back. In despair, Willie remembered Colonel Brookfield, and was delighted to find that he had been discharged from the army and had taken up his seat again in Parliament. He went to see him. The Colonel was delighted to see him but after a fruitless .attempt to have an exception made he said to Willie: "You must write to Lord Roberts (Commander In Chief) and demand that your family is sent here to join you." Then he added: "Don't ask! Demand".

Willie was apprehensive of demanding anything from so exalted a person as Lord Roberts, but since there was no alternative, he wrote to him. Less than a month later a British officer called on Dora in Durban and instructed her to pack her belongings and prepare to sail with her family. They were to travel on the troopship Orion.

They were treated with the utmost courtesy and friendliness and since Dora was a fine pianist, she spent many an evening on the long voyage playing for the officers in the First Class lounge. The children became very popular with the troops, and young Gordon, then only three, with blond curly hair was tormented when he was told that he could not be a Boer with such hair, but he stoutly maintained that he was a Boer!

Willie met them in Southampton and they settled in London. There were many people in Britain who were completely against the war, and felt that Britain had provoked the dispute. They met many important people, among them Mr W.T. Stead, the famous editor of the Pall Mall Gazette, and he adored playing with the children on the carpet in his lounge. They met Conan Doyle, the author, Lord Bryce and Prince Kropotkin, the renowned Russian author and anarchist, as well as Felix Mendelssohn Noscheles, godson of the composer. Mr Stead was a remarkable man who was often interviewed by heads of state who sought his opinion on political issues - he had told King Leopold of the Belgians about the atrocities in the Congo, and the King took corrective action. When King Edward VII came to the throne he invited Mr Stead to lunch with him on a Sunday but Mr Stead said he never accepted invitations on the Sabbath, and the King then enquired which day of the week would suit him!

Living in London was very expensive and the Poultneys had limited funds, so they obtained permission to go and live in Berlin where they obtained a small flat. Dora said they found a place where they could get "kartoffel bouiflon" for the equivalent of a penny, and other food was also cheap.

One day a Gratin van Brokedorf called, said she had heard of them, and enquired about her brother Baron van Ahleveld who had emigrated to South Africa, but from whom they had not heard since the outbreak of the war, and she enquired whether the Poultneys had ever heard of him. To her delight Willie was able to tell her that the Baron was a great friend of theirs, that he had been with the Boer forces and he had seen him off at the Durban docks when he was sent to Ceylon as a prisoner-of-war. He added that the Baron had married the sister-in-law of Willie's brother. The Grafin was so delighted that the Poultneys were invited to all her receptions as long as they were in Berlin and they met many famous people there. On another day the German Kaiser and the Kaiserin sent his secretary, his aide-de-camp and two of her ladies-in-waiting to interview Willie and Dora and to learn from them of conditions in the two Republics. They would have been invited to the palace to meet the Kaiser, but as King Edward was his cousin, it would not have been diplomatic for him to meet a Boer prisoner-of-war.

Early in the summer the heat in Berlin became oppressive and Willie was advised to go somewhere where it was cooler g - but where? Fortune smiled on them. They had become friendly with a Gratin van Beroldingen who, when she heard of their problem, insisted that they should go and stay in her castle Schloss Hochberg in Wurtemberg where the climate was milder. She had not used the castle since her husband's death, but many friends stayed there. Dora says they spent the next seven months there. It was an old castle, at least one thousand years old, with walls six feet thick, with a moat and drawbridge, dungeons and massive underground passages, and in the' days of the feudal barons it had withstood many a siege. The rooms were filled with priceless treasures collected over the centuries. The Grafin also owned vast tracts of land and several villages and when she visited the area she stayed in a comparatively small nearby villa, while the penniless Poultneys lived in luxury in her castle. Thirty years later after the devastation of the First World War Dora visited the castle again but it was vacant and forlorn.

The mild climate and the invigorating air of the Schwaben Hills benefited Willie's health and the children had a wonderful time. As the war in South Africa came to an end, Dora decided to see as much of Europe as she could. She went to Bayreuth, heard many Wagneriar1 operas, visited Vienna and saw the aged Emperor Francis Joseph in religious procession to the gorgeous St. Stephen's Cathedral. While in Brussels she met General de Wet and General de la Rey who had come over on a Reconstruction Mission, and she went with them to Paris, saw operas and plays in which the immortal Sarah Bernhardt appeared and was royally entertained by Countess de Gosselin whom she had met previously. She was taken to see General Noix, the Governor of the Invalides who personally conducted them to Napoleon's tomb and presented Dora with a small piece of the flag which Napoleon had captured at Sedan "in honour of the heroic men of the two Republics". In Switzerland she stayed with President and Mrs Steyn who had gone there for health reasons. Soon after her return the Poultneys obtained a passage on a ship back to South Africa. Penniless and with five children to feed, clothe and educate, the prospects were grim as Willie had no profession and owed a good deal of money. Willie saw the family settled at Somerset Strand and then left for Johannesburg to find employment.

THE POST-WAR YEARS

Because he was fully bilingual and had fought with the Boers he soon found employment with a company which was buying mineral rights from farmers, and Willie proved to be a good negotiator. About a year later Willie's prospects had improved so much that he felt justified in bringing the family to Johannesburg where they rented a small house in Bellevue - a wood and iron structure, but an improvement on the small cottage in which they had lived in the Cape. Conditions continued to improve, Willie became Managing Director and a major shareholder in National Options Syndicate, and he felt he could not only repay the last of his debts but could afford to build a suitable house. He erected a fourteen roomed house - a double storeyed house "on the slopes overlooking Orange Grove" and called it "Melorani", as , Orange Grove was becoming a fashionable suburb. The name was taken from a farm they had once owned. There was a major boom on at the time and Willie estimated that he was now worth £30 000 - a sizeable fortune in those days. (Editorial note: The house was situated in Mons Road and later became well known to many King Edwards boarders as Chaka's Kraal. There was a short note in the School magazine of December 1919 to the effect that "Chaka's Kraal", originally established in Mountain View has been moved to Mons Road, the School having taken a lease on this house from Mr Poultney".)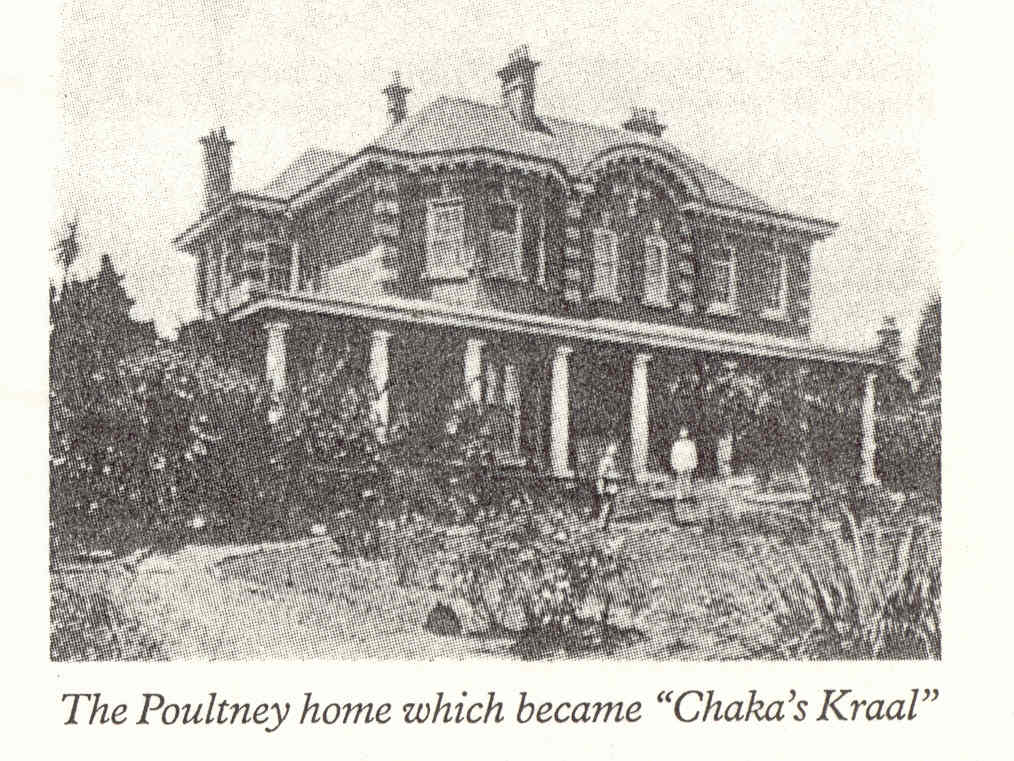 Then came the inevitable slump, brought about by the withdrawal of Chinese labour from the mines as the experiment had proved a failure. The syndicate collapsed and the only income the Poultney's had was £13.8.3 consisting of the tiny pension Willie received from the Free State plus £4.0.0 paid to them by a nephew who boarded with them, and Dora writes that he never even got his money's worth. A tram ride into town was considered an unnecessary luxury.

BACK TO TOP

WITWATERSRAND AGRICULTURAL SOCIETY

Willie tried several jobs but none of them offered any prospects. He then had the idea of resurrecting the Witwatersrand Agricultural Society of which he had become a member in 1903 although it was then dormant. He thought that if he could become Secretary and help to build it up he could have a good position. He found however that the Society owed £12 000 and the majority of Dutch farmers detested Johannesburg and wanted to have nothing to do with the Society. Mr Lionel Phillips (later Sir Lionel) the head of the biggest mining house in South Africa was also keen to get the Society active again. On July 19th 1906 he was elected Chairman and immediately started planning to hold the first show since 1899, the following year. The Society had advertised the post of Secretary and two days after Mr Phillips took over Willie Poultney was appointed at a salary of £70 a month. It is interesting to record that he never received an increase in the thirteen years he was employed, although he received various bonus payments.

Apart from W.H. Poultney one other person had applied, but Willie had the advantage of being bilingual, of having been Honorary Secretary of the Bloemfontein Agricultural Society for ten years and was very popular with the Dutch farmers not merely because he had been a farmer himself, but he had fought on their side in the war. Nevertheless there was a cruel joke which made the rounds that Mr Phillips had given Poultney the job because Mrs Phillips was a cousin of Mrs Poultney, and he was in dire financial straits. Once he took over, however, he became a tower of strength and did much to break down the animosity of the farmers against the Society.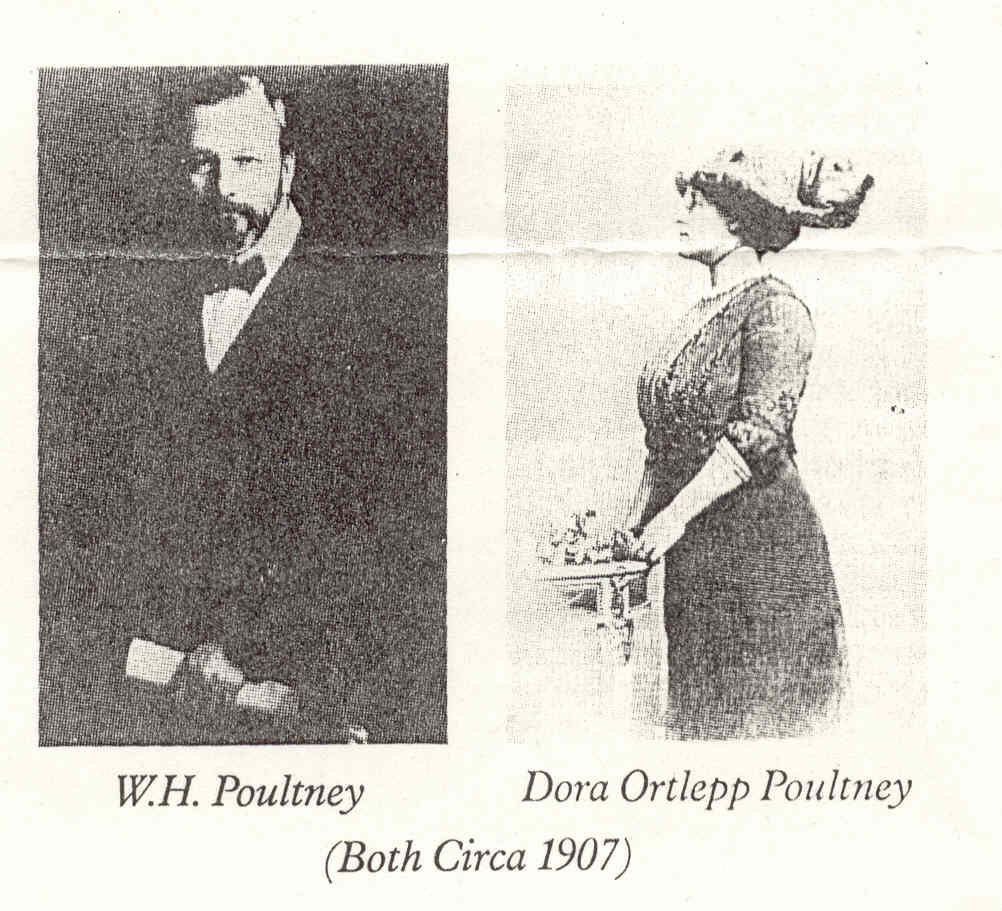 Years later Willie wrote: "Our newly acquired showground consisted of an abandoned brickyard and dump, was indebted to the Government and the Bank for £12 000, the membership had dwindled to 37 and the assets were an old safe without a handle and some damaged wood and iron." Mr Phillips certainly got things going and Willie added to his notes: "For the first few years I worked almost single-handed, even my typist being a part-time employee, and I could never have coped with the work had I not pressed my wife and family into the service to assist me in work such as translating, proof-reading, addressing Prize Lists and circulars, etc. often working until midnight. During the period when I was allowed no typist I could only get through my correspondence by dictating letters at night to my daughter Elfie who did the typing at home without remuneration." He also commented on the fact that the office accommodation was frequently changed and for the most part was inadequate.

(Editorial Note : During my research I was privileged to obtain on loan the W.A.S. minute book covering the period 1906 - 1909, confirming all these facts, except one. Elfie was actually appointed "clerk and typist at £12.10.0" for the time being according to a minute dated 15/8/1906. In November a typewriter was bought for her for £28.12.0. On 11/1/1907 Dora was elected a member.)

THE TIES WITH OUR SCHOOL

From the above one would have thought that Willie had no time for anything else, but this was not the case. When the family returned to Johannesburg in 1904 the two older boys Harold and Trevor were enrolled as pupils at Johannesburg College - Gordon followed a few years later, but it is more than likely that he was a pupil of Miss Lillian Sprigg whoso 1ittle private school became the Preparatory school for the college, becoming King Edward VII Preparatory School in 1910.

In 1905 Lord Milner, Governor of the Transvaal appointed a Commission to find suitable sites for schools. One of the schools which had to find a new site was Johannesburg College, as the Barnato Park property was considered more suitable for a Girls' School and after we left, became the Johannesburg High School for Girls, and our sister school.

The Commission recommended that the school should be moved to a four acre site to the East of the Johannesburg Hospital and just below the Fort - a rocky slope, quite unsuitable and with no room for playing fields. Part of the story of "The Battle of the Fort" is told in A.P. Cartwright's book, "Strenue", but this part of the story has not previously been told. Willie Poultney got word of the "plot" as Dora described it, rallied the support of other parents and with the assistance of General Smuts, Mrs Lys and Mr H.J. Hofmeyr, a newly elected town councillor, who had the proposal squashed by a unanimous vote of the Town Council, the plan was dropped.

In 1907 the Transvaal received responsible government and after the elections General Louis Botha became Prime Minister with General Smuts Minister of Justice and Education. It was decided that all schools should have Governing Bodies or, in the case of Primary Schools, School Committees. From the notes in the School magazine it would appear that the new Government appointed the first Governing Bodies. It was no doubt due to his friendship with both Generals that Poultney was appointed the first Chairman of the School's Governing Body, a position he filled capably and with dignity until ill health forced him to retire in 1912 when he was succeeded by Mr H.J. Hofmeyr, who had been appointed a Governor when a vacancy later occurred in 1907.

In 1905 the oldest Poultney boy became a member of the First Cricket XI and in 1908 he became captain. He was a brilliant scholar and at the end of 1908 he was presented with a special medal for academic achievements. Harold went to the University in Cape Town, passed law degree (B.A., L.L.B.) with honours, returned to Johannesburg where before the First World War he was called to Bar. It appeared as if his father's ambition that his son would one day become Chief Justice of South Africa might be realised, but alas it was not to be. When war broke out, Harold enlisted and fought in South-West Africa under General Botha, and on the conclusion of the campaign returned home to the family farm on leave before joining a regiment due to sail for Europe. The December 1915 magazine had the following notice: "It is with deep regret that we have to record the death of Harold Ortlepp Poultney under tragic circumstances. While out shooting he received fatal injuries from the accidental discharge of his gun."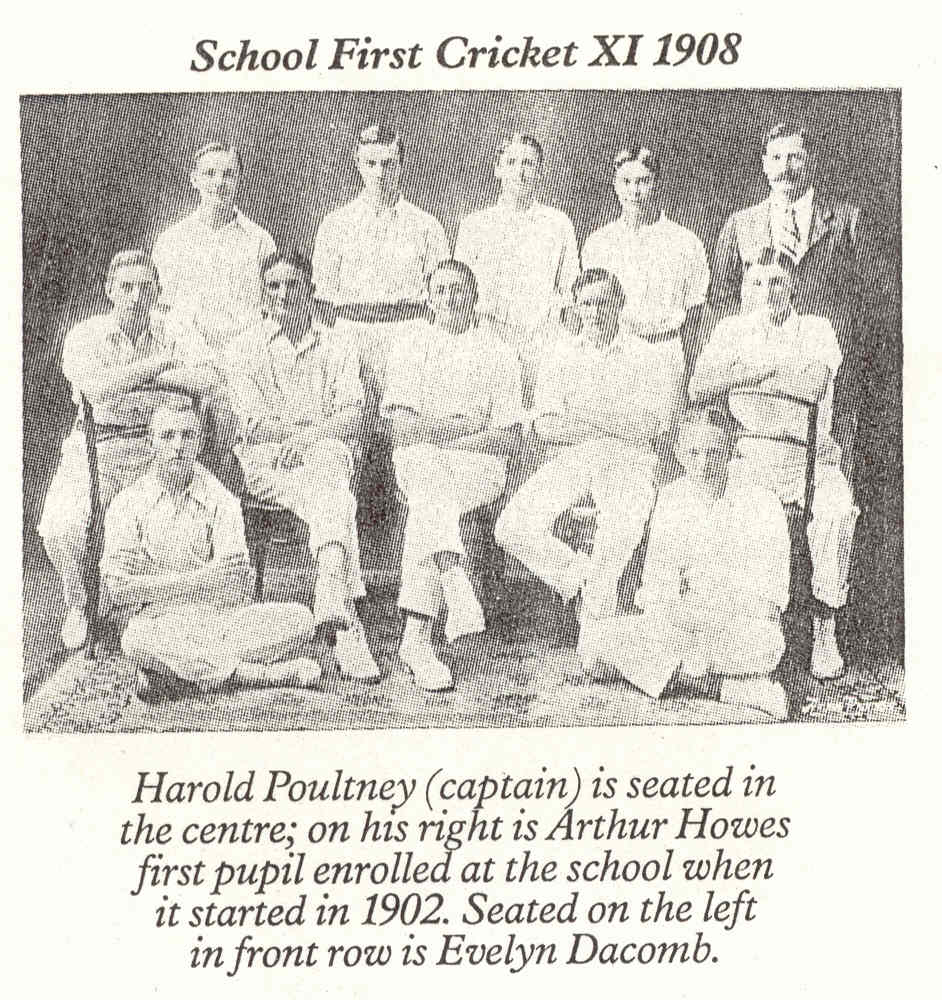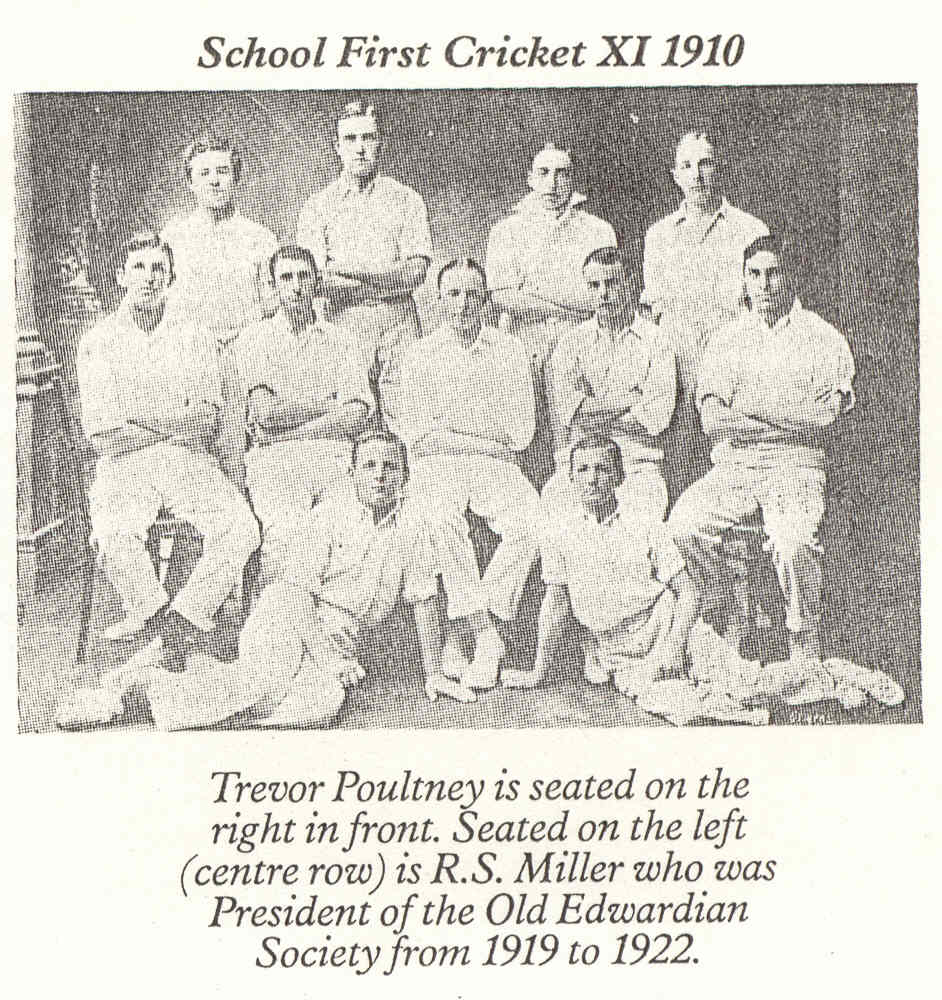 In the June issue that year the magazine contained an interesting letter which had a Poultney association. It was from a parent who wrote: "Robert Moffat has joined the 2nd Imperial Light Horse. Bobbie is a great grandson of Rev. Robert Moffat, D.O., the well-known missionary, and grand-nephew of Mr David Livingstone. His father is a Lieutenant in the 11th Mounted Infantry." The interesting part about this letter is that Bobbie Moffat had been at school with the Poultney boys while his father was the man whose life Willie Poultney had saved on that Christmas morning in Zeerust in 1891 In spite of all his duties with the Agricultural Society, it was Willie Poultney who played a major role after the acquisition of the site on the Houghton Ridge and who must have been consulted on and been involved in the building of the original buildings on the site. He would also have played a major role in the idea of asking for permission from the Lieutenant Governor for the School to be renamed King Edward VII School after the death of King Edward, but it is my belief that the idea probably was the brain child of Desmond Davis.

BACK TO TOP

DORA IN PUBLIC LIFE

While all these things were going on, Dora was busy creating a niche for herself in South African history. In the first years after the Boer War The South African Women's Federation had been formed under the auspices of Mrs Saul Solomon and Mrs Louis Botha, the wives of two leading statesmen, the idea being that they would work to provide relief for those stricken and impoverished by the war. In June 1905 Dora Poultney was elected President of the Johannesburg Branch and made her first public speech. Miss Emily Hobhouse, that remarkable daughter of a Minister of religion who had come to South Africa during the war to investigate the hardships in the Concentration Camps, stayed on to work tirelessly to alleviate the hardships. After the war she returned to England, merely to raise funds with which she bought spinning wheels, looms and brought these back with teachers and money to buy raw materials. Soup kitchens had been established to assist those impoverished; now they set up workshops to teach the women to make blankets and cloth for garments, so that they could earn some money.

Dora set up such a workshop in a big wood and iron building in the backyard of their home to assist in this work. Dora relates an amusing experience they had when they had woven a heavy fabric and they persuaded all the leading citizens to have suits made - to be worn at the opening of the 1907 show. It proved to be a very hot day, and Mr Harry Hofmeyr came to her and said: "Mvr Poultney, ek Iy vir my land!"

For that first Rand Show of the resuscitated Society, Dora had organised a wonderful display of Home Industries, particularly bottled fruit and vegetables, which thereafter became one of the features of the Rand Show. She also instituted fund-raising Tea Tents staffed by the prettiest girls in town. This too became a Show institution, according to Thelma Gutsche. Thelma Gutsche wrote of Mrs (later Lady) Phillips: "Before and after her marriage Florence Ortlepp had lived in very harsh conditions among her own people and was, in her own words, 'very closely acquainted with poverty'. Her heart went out to her countrymen cut to their knees and poverty and depression, particularly in the Pietersburg district where her own farm lay. In Phillips' scheme for the Agricultural Society she saw the means of realising her own impulse to help her people."

In this work her staunchest ally was her cousin Dora Ortlepp Poultney. Together they put the Home Industries Section on a sound footing, and after the 1936 Empire Exhibition this section was transferred to a series of Cape Dutch style buildings which had been erected for that great Exhibition. Early in 1907 responsible government came to the Transvaal, and with it the first elections. As a great friend of General Botha Dora worked hard for Het Volk, of which he was the leader. They won a great victory much to the delight of the Boers and to the dismay of the English speaking voters. The election campaign had been an acrimonious one and afterwards there was a good deal of bitterness. Dora persuaded the Women's Federation, a completely non-political organisation, to hold a post-election reception at the Carlton Hotel to which they invited all the candidates, both the victors and the vanquished, and in a speech fully reported in the "Star", she appealed to everyone to forget the past and to work together for a better and happier South Africa. The colours which the ladies wore were the combined colours of the various parties. As far as is known this was the first and only time in our country's history that such a reception has been held!

By the following year Dora was completely exhausted and Willie arranged for her to go on holiday to England together with her two daughters. They travelled via the East Coast and saw Egypt and sailed down the Nile. While in London a delegation arrived from South Africa, including President Steyn, General Botha, General Smuts, General Hertzog and many more leading citizens who had come to finalise the details of the South African Act of Union. She was invited to many receptions. The only major delegate she had not met before was the renowned "Onze Jan" Hofmeyr, the Afrikanerbond leader from the Cape. She was glad to meet him since he was a cousin of her mother. At Covent Garden she heard Caru80, Nordica, Calve, Albani, and other famous singers.

DORA THE SUFFRAGETTE

During her stay she came under the influence of Mrs Pankhurst and met quite a few of the women fighting for the cause of Women's Suffrage. She became enthusiastic about the movement and one day General Smuts said to her: '"see I shall be getting a cable from my friend Poultney one of these days asking me to get you out of prison!"

She and her daughter Mirri joined the Militants, presented petitions to members of parliament, took part in meetings, wrapped the Suffragette colours around themselves and sold "Votes for Women" in the streets of London. She was shocked at the brutality of the police who were breaking up meetings, and although she kept out of trouble she came back convinced in the justice of women getting the vote.

Willie's health was deteriorating again. In mid 1913 Mr J.G. Torrance was appointed Assistant Secretary, but only a month later he and W.H. were appointed Joint Secretaries, a position which continued until 1 September 1918 when Torrance became Secretary, a position he held until 1943. W.H. was called "Organiser" for a year and then until his death in 1931 he was called "Society Agent", although he retired officially in 1919.

BACK TO TOP

SECOND TRIP TO ENGLAND

In 1913 Dora again travelled to England, this time just with Mirri. To afford the trip they rented their house with the understanding that Willie and the other children would board there.

The highlight of that trip was the time when they were presented to the King and Queen at Buckingham Palace. Dora was thrilled at the prospect but worried how they could afford the required "Court" dresses. A good friend, a titled lady, came to their rescue by engaging a seamstress who made the necessary garments at a very reasonable cost. Dora's cousin, Lady Phillips and her daughter lent them their trains and a few simple but appropriate pieces of jewellery. Dora described the presentation in detail- of the splendour of such a spectacle in an era of wealth and opulence. When her turn came and the door to the throne room was opened Lord Sandhurst announced "Mrs W.H.Poultney, presented by Lady Harcourt". She walked quietly up until she reached the foot of the platform where the King and Queen were seated on chairs of state. She made her solemn curtsy, and then walked past the ambassadors, cabinet ministers and members of the royal family. She says that as she reached the far door she looked back at this unforgettable spectacle and her mind went back to the days long distant when her husband's family had lived in a cave in the Drakensberg range, and she had travelled through the dusty lonely Free State on oxwagons and horse drawn carts. Sumptuous refreshments were served in a large banqueting hall after the King and Queen had passed through the room at the end of the presentations. The next day she was a guest at the home of Lord and Lady Harcourt, who had arranged her presentation. Another splendid meal was served, but she comments that she could not enjoy the wonderful food as she had been seated next to Lord Buxton who had just been informed that he was to be the next Governor General of South Africa. Throughout the meal he kept plying her with questions about the country and the people.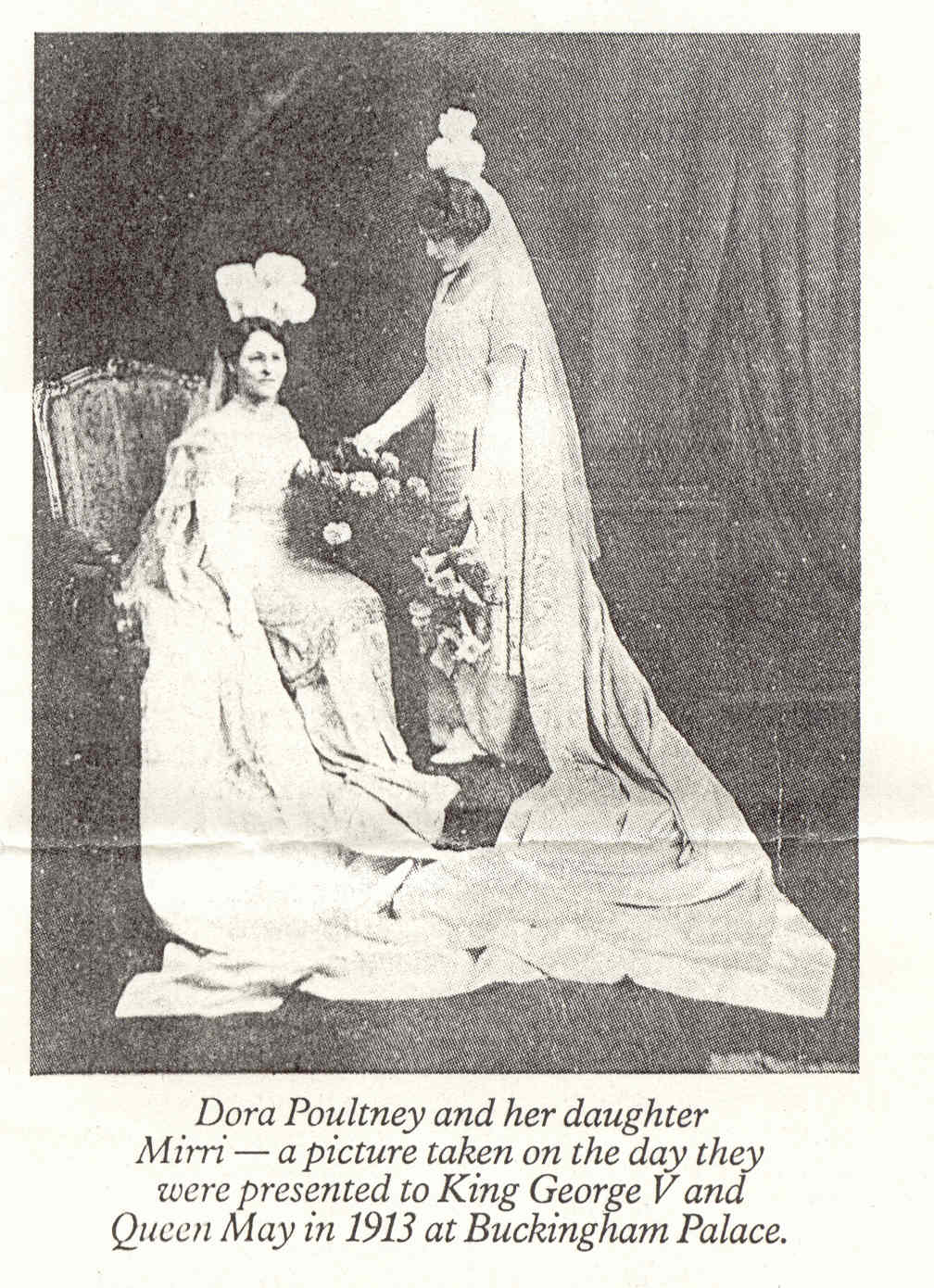 (Editorial Comment: Lord Buxton served throughout the First World War and towards the end established The Governor General's Fund to raise money for the children of men who had lost their lives, including the establishment of boarding houses. Our own Buxton House was one of the houses bought for this purpose and the earliest boarders were boys who had lost their fathers in the war.)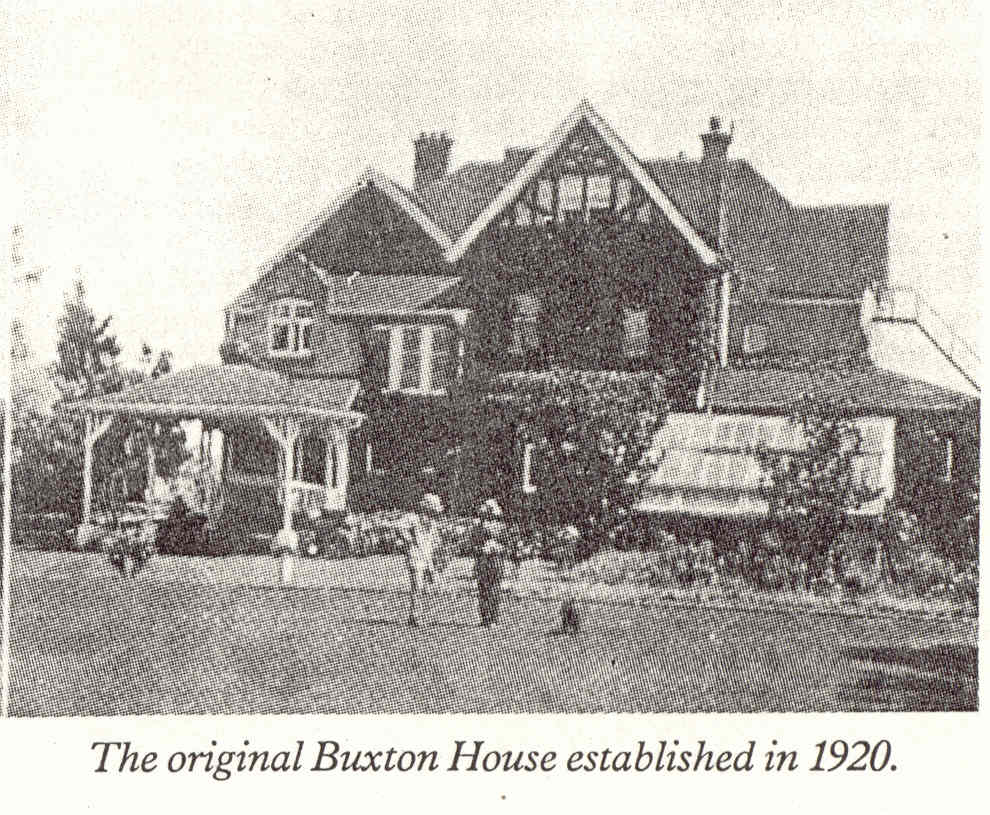 BACK TO TOP

They went to the Derby, the Henley Regatta and to a reception where she met Prince and Princess Alexander of Teck, later to become better known as The Earl of Athlone and Princess Alice. More is written of her meeting them when he was Governor General in South Africa and when she met them later in London.

Mirri could not always accompany her mother as she first attended elocution classes at Tree's Academy, and later appeared in two plays at the Haymarket Theatre where she appeared with such famous persons as Lilly McCarthy, Dame May Witty and Godfrey Tearle.

In 1913 Willie was asked by Lord Kylsant to go over to Holland to make arrangements for a tour of that country by fifty leading South African agriculturists. The original arrangements were bungled, so that W.H. had to go over himself to London where he met Earl Grey, Foreign Secretary who arranged for him to meet Holland's Prince Consort and the Minister of Agriculture. The arrangements he was able to make were even better than he had expected, but he had to return to South Africa and he arranged for Dora to join the delegation In his place. Quite a few wives accompanied their husbands and spent time sight-seeing. One day they were invited to the Palace of Het Loo - the home of Queen Wilhelmina. At tea Dora was seated next to Professor Mansveld who had been Director of Education in the Transvaal during President Kruger's time. While they were conversing they saw the queen and Princess Juliana, then five years old, walk past the open door and they regretted that they could not meet her. To their delight the Lord Chamberlain came in and announced that the Queen would like to meet them, but she could not see them all but she would like to meet the women in the party - individually in her Audience Chamber. When Dora told the Professor that she had a diploma in High Dutch, he told her to address the Queen in Afrikaans. When Dora's turn came the Queen addressed her in perfect English, but when Dora told her that she was fluent in High Dutch but in South Africa it had become Afrikaans the Queen said: "Then we shall converse in Afrikaans". The Queen made her explain the evolution of Afrikaans and at the end she expressed her regret that they no longer spoke High Dutch. Dora's audience lasted far longer than any of them.

By then the First World War was threatening and so they hurried back to London. Dora and Mirri remained in England for a while longer, Mlrrl working as a farm girl, while Dora worked in a hospital for wounded soldiers, some of whom were Belgians evacuated to Britain, and since some only spoke Flemish Dora served as interpreter for them. Dora returned in 1915 only a few months before the death of their eldest son Harold. The second son Trevor saw service in East Africa.

DORA IN POLITICS AGAIN

After the formation of the Union of South Africa when General Louis Botha became Prime Minister, Dora became Vice-President of the Women's South Africa Party in Johannesburg. Her greatest thrill was when General Botha requested her to go into the country districts and form branches of the Women's S.A. Party. She usually traveled alone but she had one amusing experience while on tour with Lady Beck. They had arrived at a small town called Strydenburg (town of Strife). She was told by the men who met her on arrival that the women in the town were against women in politics and they would not agree to form a branch there. The meeting was held and when the motion to form a branch was proposed by Dora and seconded by Lady Beck, there was not one vote in favour. Puzzled but not dismayed for they had had great success elsewhere, the explanation came out the next morning when she was preparing to depart. Several people had come to bid her farewell, when one man said that he had predicted that she would be unsuccessful since the women did not want politics in their town. His wife then turned on him and said indignantly: "What, it is not that we are against politics, but you men had ordered us to vote against a Branch."

Dora often stayed with the Bothas both on their farm "Rusthof" and at Groote Schuur. She had to give up her political work when they went to the Cape on Willie's retirement, staying part of the time at Lady Phillips' farm. Nevertheless she remained very interested and actively supported the annual private member's bill advocating "Votes for Women". The bill was thrown out each year. In 1924 her old neighbour of the Bloemfontein days and life-long friend General Hertzog won the election and, became Prime Minister. She waited until the following February and then headed a delegation to see the Prime Minister. She said to him: "General Hertzog, do you remember this day,23rd February, is the anniversary of the birth of our beloved Republic which we Free Staters used to celebrate before the Anglo Boer War? We beg you now to commemorate this great day again by giving the women of South Africa their full political rights." He replied: "I have not forgotten the day, but the time is not yet ripe for the vote". Dora knew it was no use arguing with him.

(Editorial Comment: In her autobiography "Time Remembered", Bertha Solomon, second woman advocate to be admitted to the Bar, M. RC. and long standing member of parliament tells the story of how the women in South Africa eventually got the vote. Mr D.M. Brown, M.P. for Three Rivers in Natal, was the member who regularly tabled the private member's bill in Parliament. By the beginning of 1929 he had sufficient support in the House to be successful. It became evident from the debate that the bill would be approved, but then General Hertzog rose and appealed to his side of the House to drop their support. 1929 he said was an election year and if he was successful he would personally introduce such a bill in the House the following year. The bill failed, but true to his word, the Prime Minister introduced the bill the next year and in 1930 the women of South Africa finally got the vote. It is interesting to record that In 1918 Lloyd George, the British Prime Minister, had given the women over the age of 30 the vote in appreciation of their war work, but it was not until 1928 that the franchise was extended to all women over 21.)

W.H. POULTNEY RETIRES

Thelma Gutsche in her book "Very Smart Medal" described Willie Poultney in 1919 as "an old man of 58 who had ruined his health in rattling around the country on rough farm tracks in an open Ford (which he himself bought in 1918 for £25.2.9) endlessly talking in English and Dutch in pursuance of the Society's aims. His 'pull' as contact man was still immense but diminishing." Then he finally threw in the towel- he could not carry on. The attendance at the show that year had been 61 931 and a good profit had been made. John Roy who was acting President in the absence overseas of Sir Lionel Phillips, wrote to Poultney proposing a pension of £30.0.0. a month. Poultney replied that he thought that half his salary, namely £35.0.0. would be suitable! The Society offered to make him "Society's Agent" for life, but as the Constitution made no provision for pensions, none could be granted. Poultney, thoroughly embittered by now, drew attention to the vast sums of money he had personally been able to raise when the Society was struggling and to his thirteen years of devoted service. He also drew attention to the vast number of new members he had enrolled. In the end on Christmas Eve 1919 when staying in Somerset West with his wife's cousin, Lady Phillips, he accepted the Society's offer. A Testimonial Fund was started and although Sir Lionel personally contributed £250, the fund only totalled £560, probably because of the widespread poverty in the immediate post-war period. In 1923 Willie Poultney was honoured by the King with the C.B.E. in recognition of his services to South African agriculture.

By 1925 his health had become so bad that he had to move to his farm "Oliphantsvlei" near Zeerust where he had to be nursed all the time by members of his family. He died there on July 31st 1931, a few days after his 71st birthday, surrounded by his children and grandchildren. Considering his many years of poor health it was surprising that he had survived so long but he often said: "Creaking doors swing longest".

The funeral was held at the farm on Sunday, 2nd August. After the many friends had left, towards sunset the family was gathered in the dining room, once the small children had been put to bed, when flames were seen shooting out of the dining room chimney. With the help of a friend, the Poultney's second son Trevor climbed onto the roof and attempted to beat out the flames with a piece of sheet iron and then buckets of water were passed up to him, but all to no avail. Then Trevor shouted "The house is on fire, save what you can". Everyone rushed around trying to get out what they could. Panic ensued as they tried to make sure that all were out of the house. "The tension was so great", wrote Dora "that I felt that my nerves would snap, but the tension subsided when it was found that everyone was out". They gathered under the stars, contemplating the desolation that a few minutes had wrought. No one spoke and they were in the depths of misery. Then suddenly Trevor sat down at the rescued piano and started to play "Happy days will come again. . ." For a moment everyone seemed dumb-founded, and then with one accord all joined in the chorus. The awful tension relaxed and Dora says "soon we were discussing our misfortunes as if we were real Stoics.
Although the place was insured, our financial loss was considerable, but worse still was the loss of many irreplaceable things, such as some beautiful furniture which had been handed down from generation to generation, and which we had refused to sell even in the days of our dire poverty, diaries, albums of photographs collected through a lifetime and more things that neither time nor money could replace."

What manner of man was Willie Henry Poultney? The whole story of his life is that of a man who made many friends, yet never had an enemy. He was a man people knew that they could trust and on whose work they could rely. We shall never know just how great his contribution was to our school, but his friendship with Generals Botha and Smuts, his close ties with the administration in Pretoria - so clearly demonstrated in Thelma Gutsche's book "Very Smart Medal" show that he was a brilliant organiser and negotiator. Just as he was everlastingly dashing over to Pretoria to negotiate tricky problems associated with the resuscitation of the Agricultural Society, so did this quality stand him in good stead while Chairman of the Governing Body in the days when a new site had to be found for the school, in the planning and erecting of buildings and eventually in the school changing its name.

His success in enrolling many Afrikaner farmers as members of the Society is mentioned repeatedly by Thelma Gutsche. Within 18 months the membership had risen to 800, and continued to rise. Thelma Gutsche wrote about the immediate post-war period just prior to Willie's forced retirement due to ill health : "South Africa was fundamentally divided. and Poultney found it increasingly difficult to enrol farmer members in an organisation revived and sustained by professing imperialists. The war too had taken its toll. There had been 2008 members after the 1917 show, but in 1918 there were only 1656. By the middle of the year Poultney had collapsed. He suffered a severe haemorrhage in the middle of an exacting motor tour, took a month's leave, and failing to recover, was given three months leave provided he rested completely and did no Society work."

In the end he had to retire, completely worn out. Immediately after his father's death Trevor Poultney wrote to Mr Torrance, the Society Secretary, and asked "whether in the light of her lengthy and essential voluntary services, Mrs Poultney might receive a small pension or a presentation of £500", wrote Thelma Gutsche. "The Society had paid him £5000 as agent in most difficult times, but no money could equal Poultney's pioneering work. The Society was precluded by its Constitution from so doing. Torrance wrote sympathetically, and sent a cheque for Poultney's August salary. The gentilities of 'the last of the old Colonial gentlemen' no longer had a place in the great commercial organisation which the Society had become. The image it projected now bore the impress of cold efficiency. Dora stayed with friends while the house was rebuilt, and then in March 1932 she went on her last voyage to Europe, travelling up the East Coast and joining a cruise of the Mediterranean on the Queen Mary. She became very friendly on the voyage with Lord Conway, scientist, writer and authority on art and Italian architecture.

BACK TO TOP

DORA'S LAST OVERSEAS TRIP

After arriving in London Dora decided to go to Kensington Palace, the home of the Earl of Athlone, whom she had known when he was Prince Alexander of Teck, brother of Queen Mary, and who had recently arrived back from South Africa where he had been Governor General for eight years. As she was signing the visitors' book in the foyer, a footman came along and said that the Earl would like to see her in his study. Very surprised at his knowing she was there she followed the footman and as she entered the room the Earl came forward, took both her hands in his and promptly started questioning her about South Africa and many of the people he had known so well there. In reply to her enquiry he explained that he had been looking out of his study window and had recognised her walking up the pathway. Apart from meeting him several times in Pretoria, she and her husband had once invited him to attend and open a Farmers' Week in the Western Transvaal, near their farm. After the opening the Earl and Princess Alice proved to the local farmers that they were both first class shottists. They judged the children's sports and fancy dress competition and horseback riding, while their children - Lord Trematon and Lady May Cambridge mingled freely with the spectators.

Dora wrote "Like our old friends the Selbornes (the Earl of Selborne as Governor of the Transvaal had opened the Show annually from 1907 to 1909), they had fully grasped the fact that in South Africa there are practically no class distinctions at all and they endeared themselves to the people wherever they went".

(Editorial Comment: The Earl opened the show in 1929 when the King Edward's Efficiency Platoon put on a display in the main ring. He inspected the platoon and afterwards sent for Captain "Jock" Chalmers to congratulate him on our display - I was in that platoon.)

The Earl then took Dora to Princess Alice's boudoir, on the walls of which hung many South African paintings and she showed Dora a box containing soil taken from the garden of Government House and whenever she felt nostalgic about our country, she would let the soil run through her fingers. Right until very shortly before her death many years later, Princess Alice visited South Africa almost every year, especially after the death of the Earl.

Dora was invited back to Kensington Palace and was taken to see Lady May Cambridge and her week-old baby. Princess Alice told Dora that she was related to Grafin von Beroldingen in whose castle the Poultneys had stayed for seven months during the Boer War when they were in exile. She attended a Royal Garden Party that year and again met many leading personalities of the day. She was also invited by Mrs Corbet-Ashley, President of the Women's British Commonwealth League, to represent South Africa at a conference they were holding and addressed the gathering in English and Afrikaans. She was thanked by the President and when Dora enquired from her how she had understood the Afrikaans, Mrs Corbet-Ashley who spoke half a dozen languages fluently told her that with her knowledge of High Dutch and Dora mentioning General Smuts and
General Hertzog, she tied these remarks with what Dora had told her at lunch the previous day. At a reception given by the League for the women members of the British parliament she heard brilliant speeches by Lady Astor and the Duchess of Athol whom she had met thirty years previously during the Boer War with her husband the Marquess of Tullibardine. Lady Ryder invited her to attend a performance of "Hiawatha" performed by a thousand actor singers, and although he was not at this performance, they were seated in the Prince of Wales' box. The performance was at the Albert Hall.

On the return sea voyage Dora became very ill, and was in fact invalided for many months. She was looked after partly by Mrs Patrick Duncan whose husband had come out to South Africa in 1901 as Lord Milner's secretary, settled here, became a member of our parliament, was a cabinet minister and as Sir Patrick Duncan became Governor General in 1936. Towards the end of her book she wrote about the home in which she and her husband had lived: "My husband who lived for our home and our children lies buried in a lovely place nearby Where the steps of those he fought for, And the sounds of those he wrought for Echo around his grave for evermore."

When she wrote the autobiography (1935/36) it had become evident to all the world that the League of Nations established with so much hope after the First World War had proved a failure, and her final paragraph was almost prophetic: "There remains only one glimmer of light that I can see, and that is for a greater League to arise like a phoenix out of the dead ashes of man's futile efforts at collective security; a League which will, in the fullness of time, become the World Commonwealth of Nations, outlaw war and banish poverty for ever from the earth. It seems through only this can civilization be saved from the horrors and suffering which are beyond the imagination of man to conceive."

(Final comment: When after the Second World War the United Nations was founded it was her friend General Smuts who drafted the preamble to the Covenant of this organisation. There has been no major war, but many minor ones, but grinding poverty still exists worldwide.)

BACK TO TOP