Simon Poultney Memorial Scholarship
Trinity Western University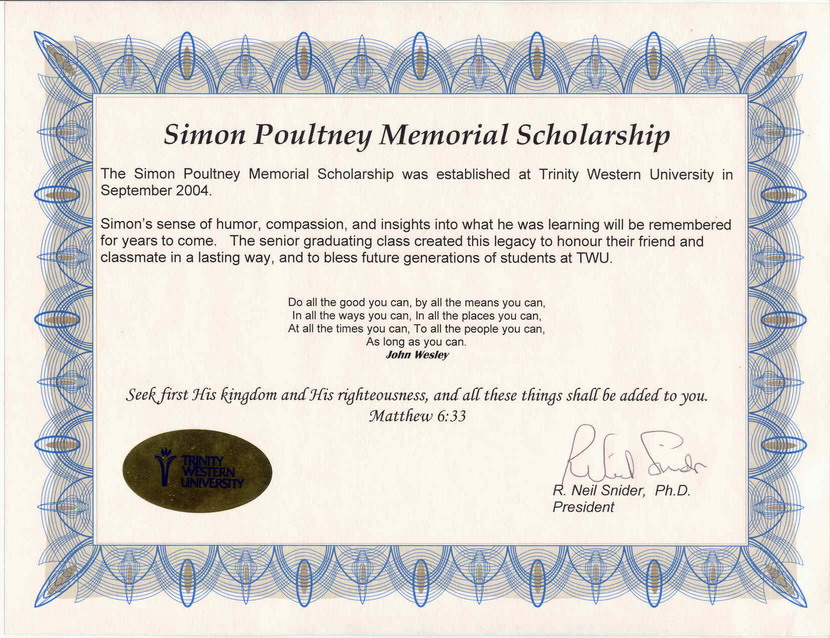 Immediately after Simon died the Senior Class of 2005 decided to raise funds in his honour to provide an annual scholarship for a student attending TWU. The students set an initial target of $ 20,000 and worked hard throughout their final year to meet that goal. They raised money through individual and corporate donations, ticket sales at an on-campus concert and the sale of extra tickets for their graduation ceremonies.

The money is held in the TWU Endowment Fund which is managed overall by the Board of Governors Business/Finance Committee through a Management Investment Committee. The latter is directly responsible for retaining fund managers to manage the investment of the funds. Everything is managed in accordance with the university's Investment Management Policy.

Generally 5% of the endowment fund is returned annually for use in scholarships. Therefore the larger the particular endowment fund the larger the amount of the scholarship that will be awarded annually.

Gordon and Jenny have been invited to be the Patrons of the Simon Poultney Memorial Scholarship and have therefore set a target of another $ 20,000 to be raised for the endowment fund by the Spring of 2006. This would enable the scholarship award to be $ 2,000 per annum. For now the scholarship will be awarded to a student in the Communications program with an emphasis on film-making.

Donations can be mailed directly to Trinity Western University, Attention Advancement Department, 7600 Glover Road, Langley, BC, V2Y 1Y1; marked clearly for the Simon Poultney Endowment Fund.