Simon Mortimer Poultney
July 8, 1983 to September 5, 2004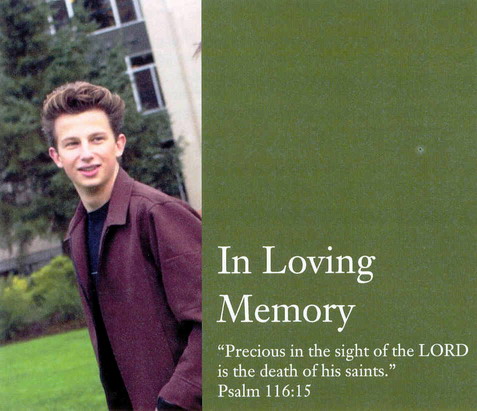 From the Trinity Western University memorial service leaflet

Updated : April 16, 2006

Contribute to the memory of Simon - there are two ways to make a financial contribution to the memory of Simon :

The Simon Poultney Foundation (separate web site)
Trinity Western University - Simon Poultney Memorial Scholarship


Message from the Family
Eulogy by Leighton Sawatsky
Memorial Service Leaflet - Sieze the Day
Suicide - The Most Misunderstood Of All Deaths by Rev. Ron Rolheiser, OMI
Can't Find My Way Home by Dave Watson
Sun Blind by Carson Mills
Article written by Bronwen Poultney
The Story of the Sand Dollars
Russian Tales 2003
Simon's Photo Album


Message from the Family :
Simon was born on July 8, 1983 in the Inyanga Hospital during Gordon's short tenure as manager of Troutbeck Inn, so his first few months of life were spent in that beautiful place. The following few years were spent growing up on Fairfield Farm, Mount Hampden, where we rented a cottage from Anne and Nigel Lowe. Jenny ran a play-school in our home for all the neighbourhood kids so Simon always had lots of young friends. In 1986 we had a long holiday in Canada and in 1987 a long trip through Australia, so travel was in his blood.

In 1988 we emigrated to Alberta, Canada. Simon quickly adapted to the new way of life and embraced new school and friends. A few years of home schooling allowed the family to take extended holidays in Indonesia to visit his grandparents (working on contract there for a few years) and Zimbabwe where Simon got to enjoy re-connecting with cousins and friends. He did well academically back in the public school system for his high school years.

Since 2001 he had been attending Trinity Western University in Langley, British Columbia where he was pursuing his life-long passion for film-making and writing. During his third year he travelled to Lithuania on a 3-month study abroad program which included side trips to Russia and Scandinavia.

Simon passed away at home on Sunday September 5, 2004 after a courageous battle with mental illness. Memorial services were held at the Alliance Church in Stony Plain and at Trinity Western University. His ashes have been scattered in the soil used to plant a tree in his memory on the Trinity Western campus.

We - Gordon, Jenny, Bronwen and Johanna – feel that it has been an absolute privilege to have had Simon as our son and brother. We have a multitude of wonderful memories. He could always make us laugh and he had wisdom beyond his years. His heart was passionate for God. His burning desire was to be able to do something to change the injustices of this world as he was deeply sensitive, perceptive and touched by other people's suffering.

Simon was grandson to Rita (and the late Mort) Poultney, the late Mick Tanner and Richard and Myrna Hanmer.