Before we went on our holiday of healing in Mexico our therapist had suggested that we plan to do a few special things in memory of Simon and to create some new Christmas traditions for the family. On Christmas Eve - December 24, 2004 - Jenny and Gordon decided to go for a walk along the beach to watch the sun set : Simon loved sun rises and sun sets - they are great times of the day to be taking photographs.

As they stepped onto the beach that evening Jenny spotted and picked up a large, whole sand dollar in perfect shape. The amazing thing is that this was right in the main traffic area which had been busy all day with people coming and going; and all week we had been scouring the beach, to no avail, for such treasures. On impulse Jenny immediately held the sand dollar up to the fading light to reveal the five openings in the shell and proclaimed "This is evidence that we are still five. There is still five in our family - Simon is watching over us right now." We took comfort in this as we walked and enjoyed the beautiful sun set that had been laid out for us, and shared the story with the girls when we got back to the room.

We had a beautiful morning on Christmas Day. We swam in the sea; sun-bathed on the beach; Bronwen and Gordon went para-sailing and we sat at the pool-bar eating finger food for lunch and drinking pina coladas - another day in paradise. In the late afternoon we planned to go for a bike ride - one thing we had wanted to do all week but just not got to. But before that Jenny felt like another walk along the beach on her own to look for more shells and goodies to take back for her Grade One kids. At some point she felt like a rest so sat down on the sand and lay back. As she relaxed there her feet were being washed by the surf running up the beach from the waves and she reflected on how Simon had washed her feet during their retreat together in mid-August; something she recognized as his "goodbye" to her. Suddenly she noticed a changed sound in the sand as the water receded after each wave so she sat up with fright, thinking that it might be some sea creature - the girls had seen a sea snake in the water near the beach earlier in the week ! What she actually saw was many LIVE sand dollars being washed in by the water. As the water receded the sand dollars were spinning and settling into the sand; the watery sand producing scores of patterns of five where it was flowing through the holes in the shells. She could hardly believe her eyes and just started picking them up, excited that she now had lots more to take home to her students !

She gathered all that she could find and had them in her beach wrap as she came running back to find the rest of us, waiting for the bike ride, and told us the whole story. As she and Bronwen laid them out on our room balcony to start drying out, Bronwen was prompted to say "We should count them", which they did. There was 112 live, whole sand dollars. Again, someone just said "There must be something significant about 112" and left it at that.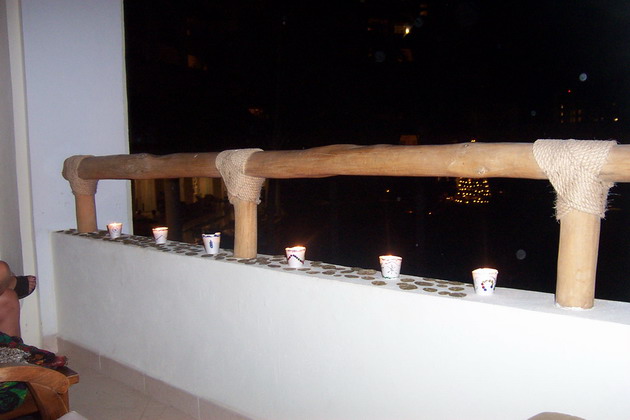 All the sand dollars on our balcony in Mexico on Christmas Night
The sand dollars were duly hauled back to Canada where they were treated with bleach and boiling water to kill the stench and preserve them. Gordon did some research on the Internet and found out that sand dollars live on the floor of the ocean and that it is extremely rare to find a live sand dollar, never mind over a hundred just like that. He also found the amazing
Legend of the Sand Dollar

THERE'S A PRETTY LITTLE LEGEND
THAT I WOULD LIKE TO TELL
OF THE BIRTH AND DEATH OF JESUS
FOUND IN THIS LOWLY SHELL
IF YOU EXAMINE CLOSELY
YOU'LL SEE THAT YOU FIND HERE
FOUR NAIL HOLES AND A FIFTH ONE
MADE BY A ROMAN'S SPEAR
ON ONE SIDE THE EASTER LILY
ITS CENTER IS THE STAR
THAT APPEARED UNTO THE SHEPHERDS
AND LED THEM FROM AFAR
THE CHRISTMAS POINSETTIA
ETCHED ON THE OTHER SIDE
REMINDS US OF HIS BIRTHDAY
OUR HAPPY CHRISTMASTIDE
NOW BREAK THE CENTER OPEN
AND HERE YOU WILL RELEASE
THE FIVE WHITE DOVES AWAITING
TO SPREAD GOOD WILL AND PEACE
THIS SIMPLE LITTLE SYMBOL
CHRIST LEFT FOR YOU AND ME
TO HELP US SPREAD HIS GOSPEL
THROUGH ALL ETERNITY

ANON

These are photos of the original sand dollar found on Christmas Eve - on the left is the "top", on the right is the "bottom"
Jenny started telling the story to people and as she did so she gave the sand dollars away - a strong message that she had received from God. At each telling of the story it became more and more evident that this had been a special sign from God to send comfort from Him that there is Hope in our suffering and grieving, that we need to keep going. It was as if Simon had said to God "Let's have some fun with my Mum and send her a whole bunch of sand dollars to get her all excited" ! And yet the number of sand dollars - 112 - still nagged at everyone because it was such a significant part of the story.

In late January we had a family over to our house for dinner on a Friday evening. This was a family that Gordon had been praying for since 2001. They knew Simon well and when he died it had such a profound impact on her that she re-committed her life to Christ and started attending church regularly again (another story to be told one day !). She had heard the sand dollar story before this evening but Jenny felt compelled to tell it again for the benefit of the husband. You could see that he was very moved and impacted by the story and he really pondered the whole issue of the number 112. Quite early on Saturday morning he called us in a high state of emotion - he had hardly been able to sleep all night, wanting to call us as soon as he could. He said that driving home on Friday evening he had heard from God and now knew the significance of 112. He told us to get a calendar and count the number of days from when Simon died - September 5 - to Christmas Day - when the sand dollars came to Jenny - EXACTLY 112 days of mourning !! Now if that does not completely confirm that everything is in God's hands .............and, wait, there's more ......

In June 2005 we sent out a regular newsletter to many relatives and friends scattered worldwide. In the letter we mentioned that this story had been published on our web site, for those who had not yet heard it. With-in days we got the following e-mail from friends of ours who live nearby :

Hey Poultney Family

Janine, Bryn (daughter - just over 2 years old) and I are doing well. We've been very busy this summer either chipping away at the many projects piling up here at home, or away vacationing on Vancouver Island.

I couldn't wait to get home and tell you guys about the "sand dollar" experience we had almost immediately after reading the update letter you guys had sent out to friends and family:
When on Vancouver Island we frequent the local beaches as it seems to be Bryn's favourite activity... playing in the sand and collecting unusual rocks and things. The night before we planned on heading out to one of the many local sites, we hooked up the laptop and checked our email. We received your letter and read it with mixed emotions; anxious to learn how things are going... afraid that it may harbour more bad news. Much to our delight, your letter provided hope and inspiration. We followed the link to the sand dollar story and we were truly touched by the message. The next morning we followed the family ritual of an early breakfast and then off to the beach at Bryn's request (points towards the ocean and says "outside!!"). On Vancouver Island there is a fair bit of oceanfront development, but local laws state that all beaches are public property and consequently public access must be available every few hundred metres. We parked on one of the many "dead end" lanes that stop at the fringe of the beach and made our way through the seaweed covered rocks that precede the sandbars left exposed by the low tide. Bryn (and I) were ahead of Janine and Bryn reached the "beach" first. She was running in circles and started screaming and pointing down to the sand where a lone sand dollar was left half buried in the sand. I pulled it out and gave it to Bryn and recalling the story we had read the night before, turned to Janine (now arriving at the same sandbar) and said "Hey, it looks like Simon is spending the day at the beach with us today !!" Janine paused then coyly said "No, there would have to be hundreds of them... if you recall, the story said that there was a sand dollar for every day that elapsed since the day he passed". I shrugged my shoulders and said "Oh yeah, thats right" and then started towards Bryn who by this time was making her way to the waters edge... but at that moment Bryn started shouting out again waving her hands in the air then pointing at the water. We quickly made our way to her and in our amazement found the sea teaming with sand dollars !!!! Hundreds of them !!! I turned to Janine and said, "I guess this means that Simon is definitely hanging out with us today !!!" and she smiled and gave a nod of approval. When I told Bronwen our story, she chuckled and said something very perceptive for her age; "That is just God's way of making himself known to you". I was too astounded to reply, but I recall that I was thinking "Yes, but Simon made the introduction".
My faith has been restored. I'm now working on my faith in mankind.

We also had a note from a couple from California, who we had met at the resort in Mexico during our holiday, also in response to a copy of our letter :

We were extremely touched by your "Sand Dollar Story", even more so since we never once saw a fully intact Sand Dollar during our whole stay at Grand Velas. Obviously someone is looking after you and your family !